Global
Malnutrition

Crisis
Global Malnutrition Crisis
This is the worst hunger emergency of our generation
Right now, millions of kids aren't getting enough to eat. They're starving, becoming acutely malnourished and every year more than 1 million children under the age of 5 are dying from malnutrition.

This doesn't have to happen.

Together, with one simple solution, we can save these kid's lives.

We call it ready-to-use therapeutic food (RUTF). This lifesaving super food comes as a peanut paste in small but powerful packets. It's full of the vitamins and essential nutrients that help hungry kids fully recover from malnutrition in just a few weeks.

Last year, donors helped us save 7.3 million children from severe acute malnutrition. This year, with your help, we can save even more young lives.

Each sachet of therapeutic food costs just 60 cents. Your donation will help us provide as many of these life-saving sachets as we can to children in need.

Donate now to help UNICEF continue to deliver this one simple solution.

Nutrition
By giving
could purchase 60 ready-to-eat therapeutic food sachets to help a child recover from malnutrition.
Enter a custom gift amount instead
DONATE TODAY
What's the situation for children?
There are 45 million children under 5 around the world who are acutely malnourished. From Afghanistan to Zimbabwe, many of these kids won't make it without our help.

That's why we have one simple solution. Together, we can treat these children and get them back healthy and happy again with our live-saving therapeutic food.

Time isn't on their side, but we can be.
What's ready-to-use therapeutic food?
It's an energy dense and nutrient rich peanut paste that comes in easy to store and transport packets. No refrigeration, no water, no spoon required - kids eat it straight from the packet.

It's amazing - just 2-3 packets a day for a matter of weeks can save a child's life.

In 2022, we saved 35% more children from severe acute malnutrition than the year before. This was the most children we'd ever saved in a single year and goes to show just how important these packets of life-saving goodness really are.

Because we're the largest provider of RUTF in the world, providing around 80% of the world's supply, we're able to drive the price down, meaning your donation goes further and helps more kids in need.

Watch the video below to find out all you need to know about our life-saving therapeutic food.
How are donors making a difference?
While the global food crisis is hitting children and families hard, UNICEF donors have stepped up to help support UNICEF's largest ever nutrition response.

Here's a snapshot of the difference donors made in 2022:

Helped reach 7.3 million children under 5 reached with life-saving treatment for severe acute malnutrition.
Helped screen 182 million children under 5 for early detection of malnutrition (18% more than 2021).
Helped reach 356 million children and women with services for the early prevention of malnutrition (6% more than 2021).
Helped deliver 5 million cartons of RUTF to malnourished children.



You can join us to help more hungry kids, it's easy and you can do it for very little.

A donation of 60 cents a day or $18 a month could help deliver 38 packets of therapeutic food each month to kids in need.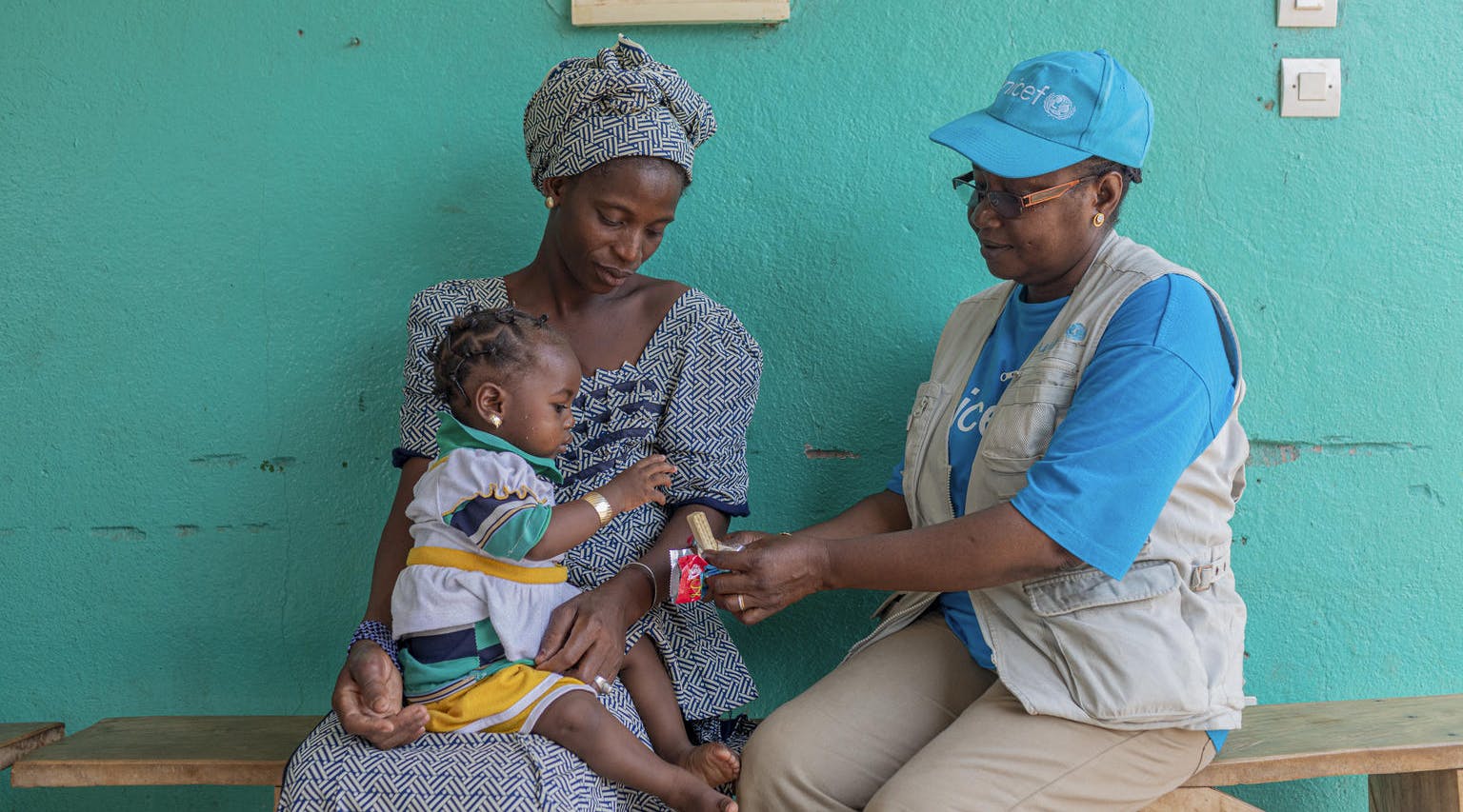 © UNICEF/UN0338556/Babajanyan VII
UNICEF representative Mariam Sissoko offers high-energy biscuits to Malado Diarra (1) as she sits on her mother's lap at a UNICEF supported Community Health Centre.

Other ways you can donate
If you'd like to donate over the phone, call our friendly team on 0800 243 575.

If you'd like to donate direct to our bank account, please use account 01-0505-0463764-00 and code 'GMC-WS'.
Other ways you can support hungry kids
Help us spread awareness of the situation for hungry kids by sharing this appeal with your friends and family. 

If you'd like to fundraise with your community to support our work, you can start a fundraiser here.
In the unlikely event that the funds raised exceed UNICEF's funding requirements for this appeal, your one off or monthly gift will go to our Greatest Need Appeal.  

Your life-saving monthly donations will support this appeal for 6 months. After that they will go into our Global Parent fund to save and protect children worldwide.

UPDATED: 5th September, 2023