© UNICEF/UNI448937/Ajjour
Emergency Update:

The "humanitarian pause" of hostilities in Gaza began on November 24th for four days, and was extended by a further two. This allowed more aid to be safely delivered - but it's far from enough to support the 1.8 million displaced people, half of whom are children. 

UNICEF scaled up operations and programmes during the ceasefire, and continues to do so in preparation for the onset of winter. Children will need blankets, tents and warm clothes once temperatures start to drop.

Children are paying the heaviest price as the violence and fighting continues.

Please donate now to ensure as much aid as possible reaches those who need it in Gaza.

"The ceasefire is over", UNICEF Spokesperson James Elder speaks to the impact resuming hostilities in Gaza is having on children.
URGENT APPEAL FOR CHILDREN OF GAZA CRISIS
No place is safe for a child while intense fighting and hostilities continue. Many children have been killed or injured already, and countless others have been exposed to the ongoing violence. Families are running out of food, water and electricity, and safe access to hospitals and medicine is severely restricted.

We're in Gaza providing life-saving humanitarian support to those most in need. Right now, medical equipment, food, fuel and access to safe drinking water are what's desperately needed.

Please donate to help send urgent aid to children in Gaza and the wider State of Palestine.

The situation on the ground is catastrophic. More than a million children are in danger. Kids continue to pay the highest price while the violence and fighting continues, please help us protect them.
How Can My Donation
Make A Difference?
A donation of $90 could provide an emergency first-aid kit to help injured children and families in need of urgent medical care. Each kit contains medicines, food, blankets, milk and clean water.  

A donation of $45 could supply blankets and a tarpaulin to a family displaced from their home.

A donation of $27 could provide 2,500 water purification tablets to ensure children forced to flee their homes have access to clean drinking water.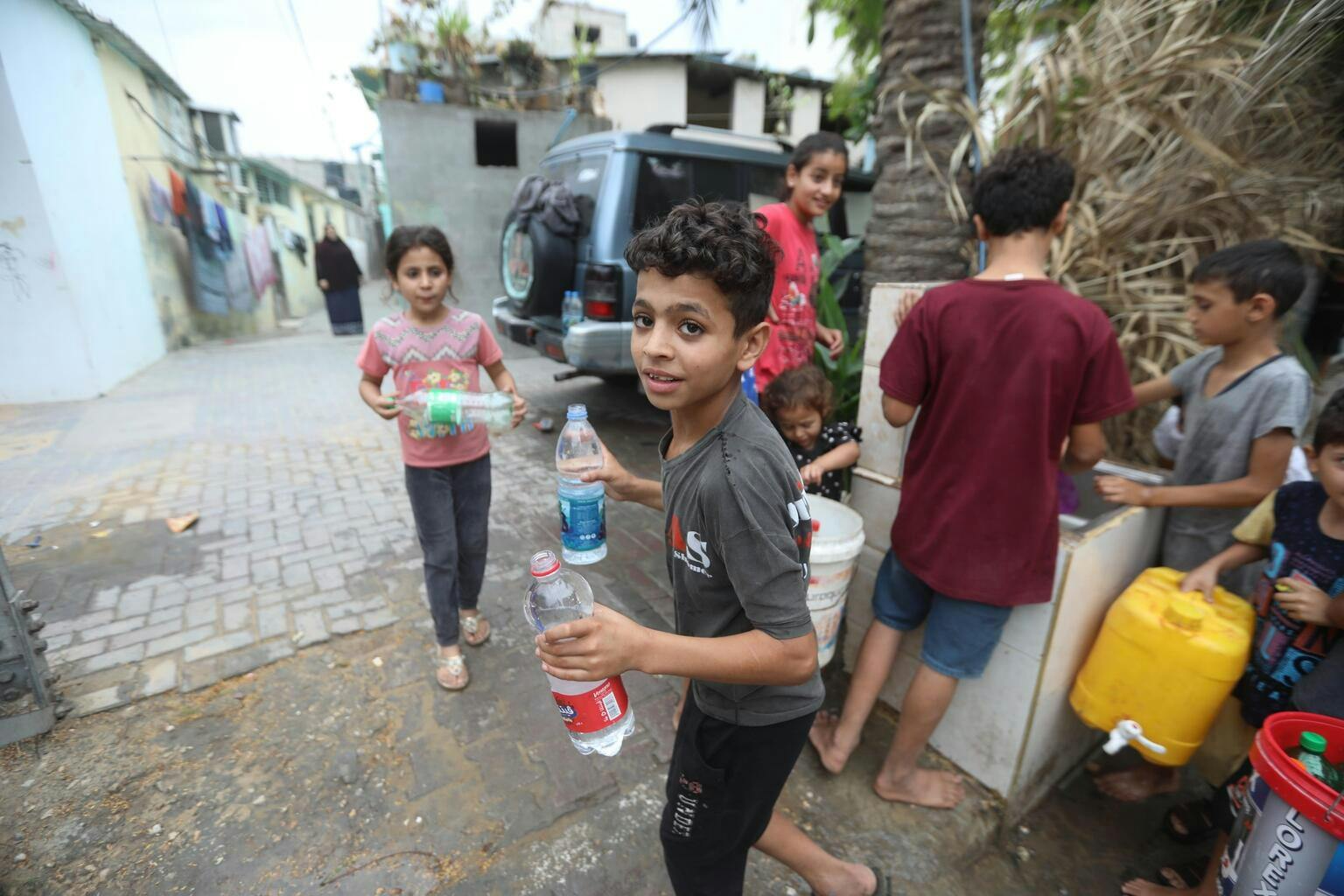 © UNICEF/UNI450063/Ajjour
How's
UNICEF responding

in Gaza?
Despite the challenges, we're working to move life-saving supplies across the border and into Gaza whenever logistically possible. We're on the ground, alongside our humanitarian partners, delivering immediate support, including medical supplies, fuel for operation of critical water, hygiene and sanitation facilities, water treatment and mental health and psychosocial support.

During the recent humanitarian pause, we scaled up the amount of supplies and services we've been providing.

132,000 litres of lifesaving bottled water was distributed to Emergency Shelters (DES), benefitting over 44,000 people, including over 22,000 children. We delivered 77,080 litres of fuel, which operated more than 66 public and private water wells, desalination plants, and water trucking, to reach more than one million people, including over 510,000 children with clean water for drinking and domestic needs.

We also distributed 10,000 family hygiene kits and 10,000 litres of liquid soap to support more than 60,000 people, including 30,000 children in Emergency Shelters (DES) in North Gaza. And three truckloads of medical supplies were distributed, including Emergency Health Kits and Acute Watery Diarrhoea Kits to benefit at least 30,000 people.

To prevent malnutrition, UNICEF has delivered micronutrient supplementation for 7,000 children and high energy biscuits for around 10,000 children.

So far we've supported 23,322 children and caregivers with child protection, mental health and psychosocial support services.

With the situation extremely precarious, we must be able to safely access children and their families with lifesaving services and supplies – wherever they may be.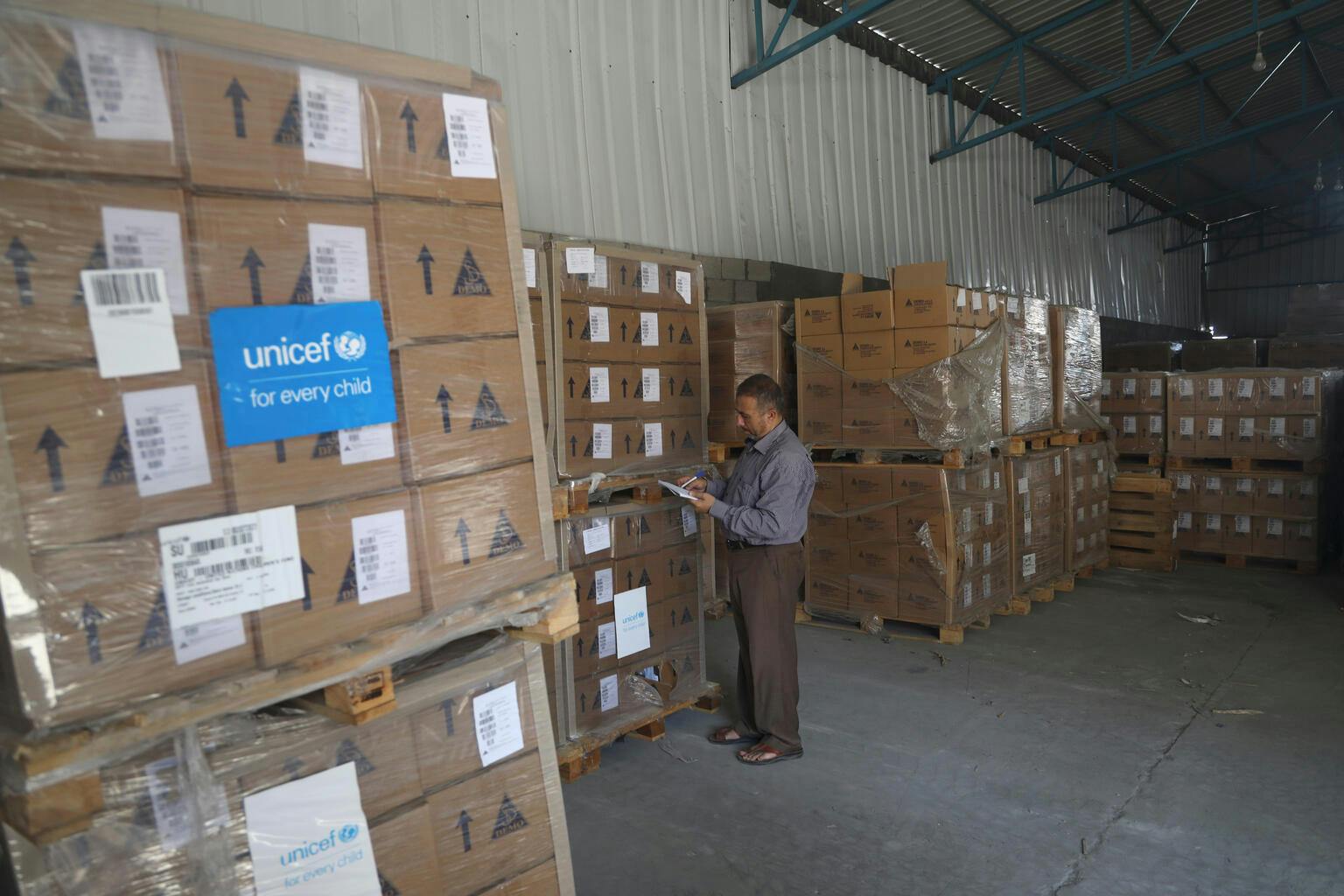 © UNICEF/UNI450177/Ajjour
Other ways you can
donate
If you'd like to donate over the phone, call our friendly team on 0800 243 575.

If you'd like to donate direct to our bank account, please use account 01-0505-0463764-00 and the code 'gaza-ws'.

Disclaimer
In the unlikely event that the funds raised exceed UNICEF's funding requirements for this appeal, your one-off or monthly donation will go to our Greatest Need Appeal. Your life-saving monthly donations will support this appeal for six months. After that they will go into our Global Parent fund to save and protect kids worldwide.

UPDATED: 4th December, 2023