UN0629397.
"When the water truck arrives..."
"When the water truck arrives..."
On the road with UNICEF, bringing water to drought-afflicted villages in Afghanistan's Southern Region.
From Kandahar City to Uruzgan Province, it is an excruciating six-hour drive. Our car jumps and squeaks through potholes resembling canyons. The terrain, challenging for passengers and our vehicle alike, presents imposing mountains around every turn, catching the eye and taking my breath away.

But the region's natural beauty is also evidence of the dire consequences of climate change. Here, in Urozgan Province, the drought is brutal. 

Here, for children, clouds are slowly becoming mythical creatures. 

I ask our driver, Rahimullah, "When was the last time it rained in this area?" 

He was silent for some time before he says, "Not sure."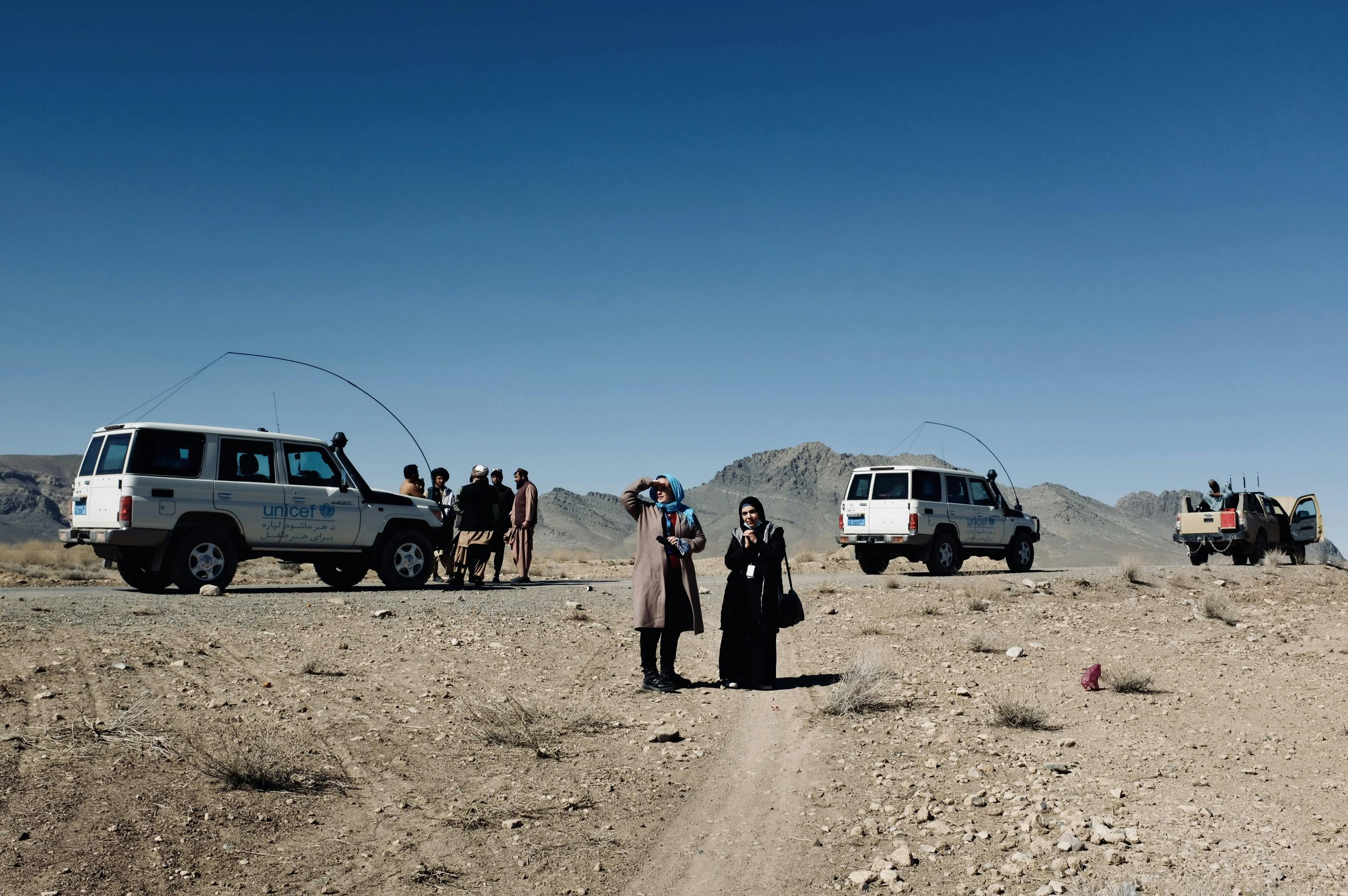 UNICEF/UN0629390/Gripiotis
UNICEF Emergency Programme Manager Gillian Walker (left) and UNICEF Emergency Specialist Field Operations Ariana Achakzai during a rest stop halfway between Kandahar City and Tarinkot District, in Uruzgan Province.
Sola Village
Three adventurous hours later, we arrive in Tarinkot District and the narrow streets of Sola Village. It has been hit hard by the drought. 

When communities like Sola lack access to water, families are forced to use whichever source is available, even if it is contaminated. When children cannot wash their hands with soap, they are more likely to contract diseases which can cause life-threatening cases of diarrhoea.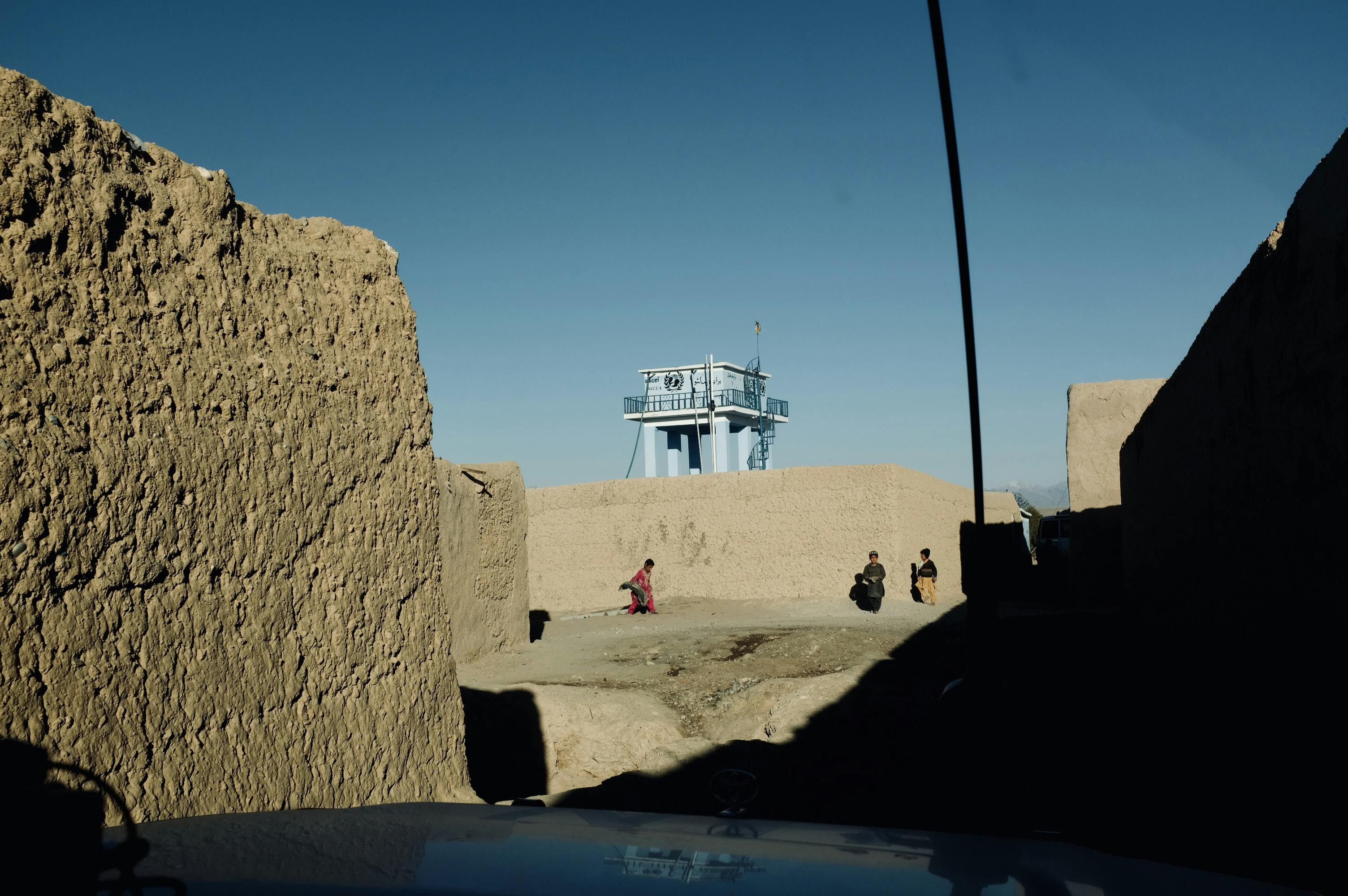 UNICEF/UN0629392/Gripiotis
Water tank visible in Sola Village, Tarinkot District, which UNICEF built in 2001. It provides clean water to nearly 1,800 people.


A blue tower stands out on the skyline, above the short walls of family homes. Children appear at every corner to greet us. We stop before a cyan blue door with a hand-painted UNICEF logo. 

This is a solar-powered water system, built by UNICEF in 2001, with a 90-meter well and 33 cubic meter water tank. The system is connected to 88 households, each home with its own central water line and meter.

The 1,800 people in these homes – most of them children – now have 24-hour access to clean water directly in their homes.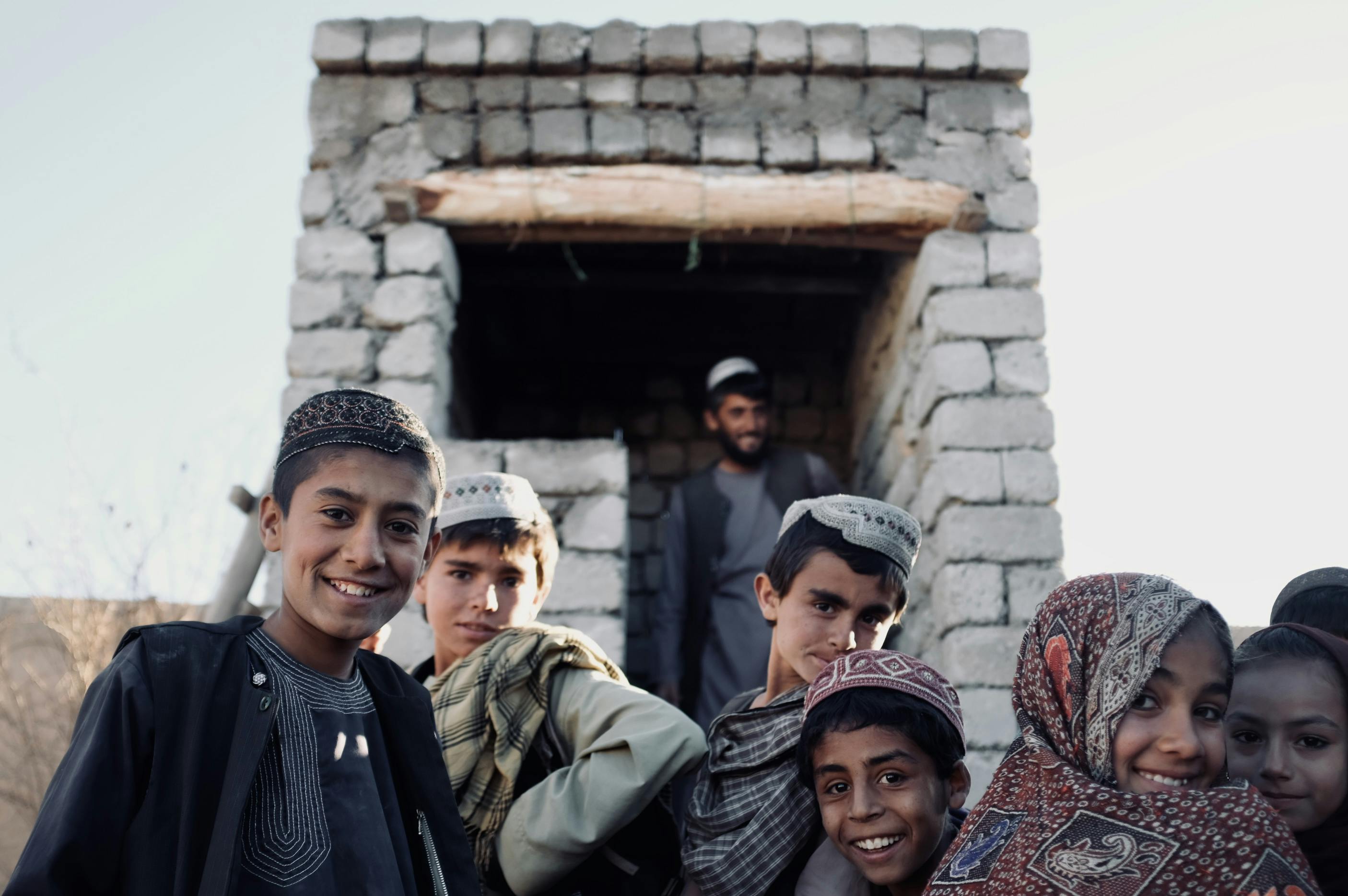 UNICEF/UN0629395/Gripiotis
Children in front of a toilet under construction in Sola Village, Tarinkot District.


A family leads us to their home beside the water tower. In what looks like a communal household, the children congregate around two toilets and washrooms under construction with support from UNICEF. 
Sahibzada Village
Less than an hour away, a second water tower overlooks Sahibzada Village. Here, UNICEF's solar-powered system includes an improvised garden. Like an oasis, the green space is filled with children, following our vehicles and waving.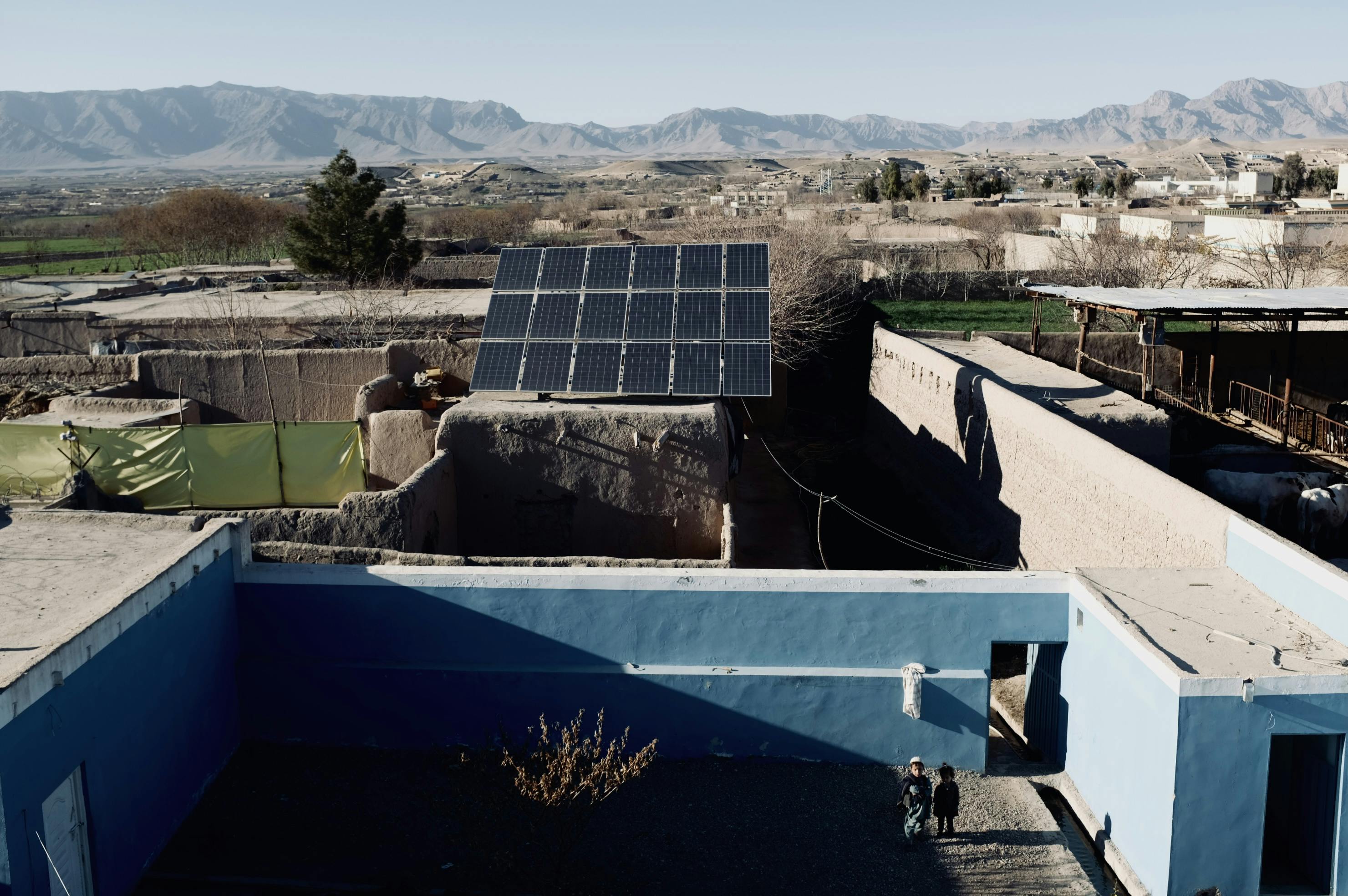 UNICEF/UN0629399/Gripiotis
Two children stand in the green space of the solar powered water house in Sahibzada Village. The tower was built in 2001 and operates by 18 solar panels. The mountains of Uruzgan Province can be seen in the back.



This system is powered by 18 solar panels. The water house is connected to 85 households, providing water to nearly 1,500 people. 

In the past six years, UNICEF provided safe drinking water to nearly 200,000 people in the Southern Region. This includes 79 solar drinking water systems, including water towers and reservoirs, and 515 water wells outfitted with hand pumps.

Ongoing construction for 27 more water towers in the region, will mean 50,000 more people can look forward to having clean water in their homes as well.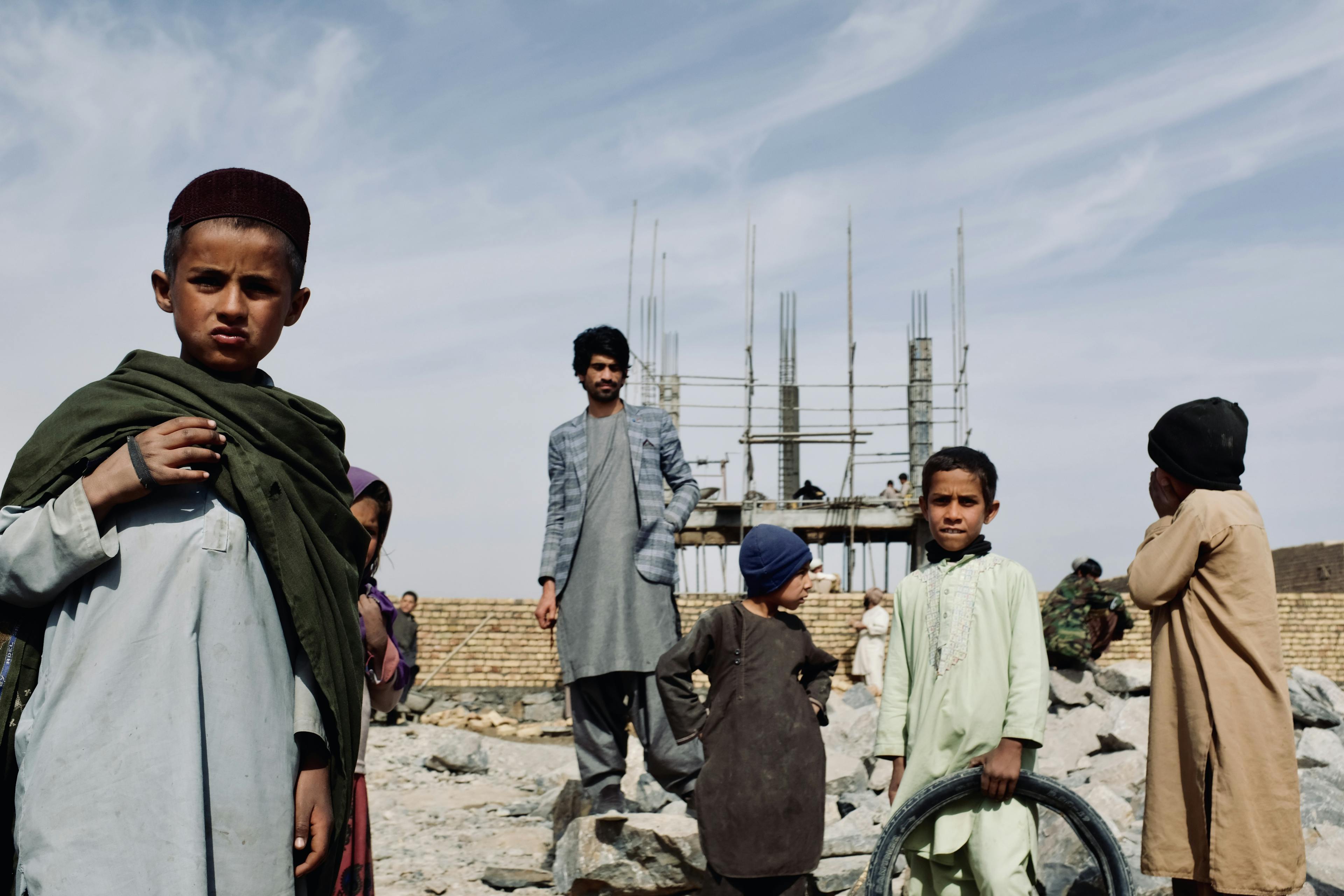 UNICEF/UN0629403/Gripiotis
Hygiene promotion:
Educating communities   
UNICEF's work does not stop when the water arrives. UNICEF trained community educators gather parents and children to teach about proper hand washing, how to store water at home, and how to prevent diarrhoea. 

In the first two weeks of January 2022, over 25,200 people in 13 provinces joined these hygiene promotion sessions in the Southern Region.
Bazar Kalach Village
For communities without water supply systems like those in Sola and Sahibzada, UNICEF provides water in other ways.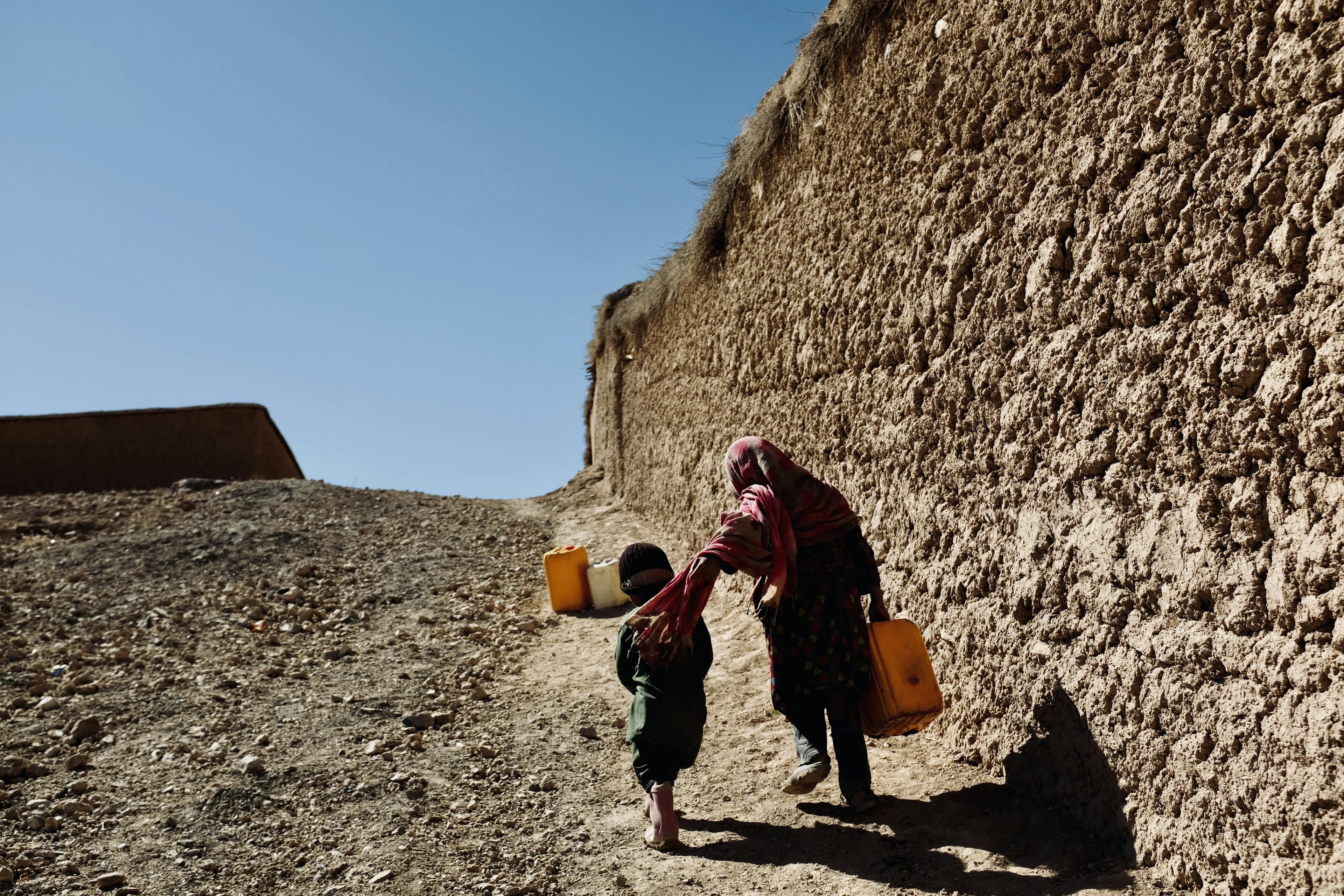 UNICEF/UN0629388/Gripiotis
A brother and sister walk while holding jerry cans to fill with clean water.



In Bazar Kalach Village, we stopped the car next to the last house under the mountain. Fifty people – mostly children – stood in front of a UNICEF water truck. After collecting the precious resource from the truck, the children marched down the steep hill, carrying their 20-litre jerry can full of water, struggling to counterbalance the weight of the water with their small bodies. 

"When the water truck arrives, it is as important as the end of Ramadan," says Najeeb, a 55-year-old father of nine. "We celebrate like Eid" (a holiday marking the end of the holy fasting month of Ramadan).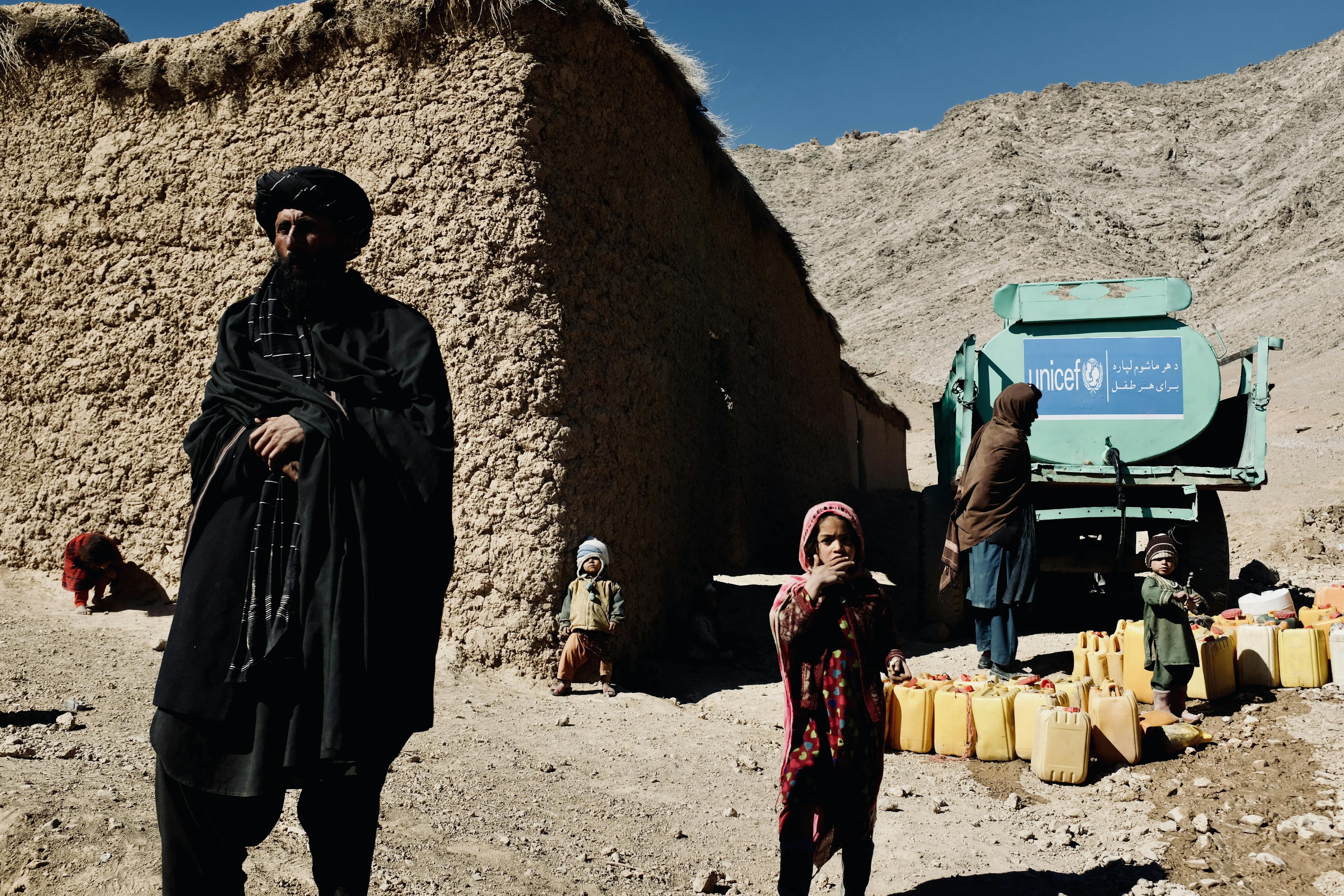 UNICEF/UN0629387/Gripiotis
55-year-old Najeeb (left) and his 4 children by their house and UNICEF water truck. The family lost 3 children to drought.



Najeeb invites us to his house, and his children lead the way. 

"The drought took three of my children," Najeeb says steadily, preventing his voice from betraying his emotion. "I watched my children fade away, first from dehydration and then as they died."

"This water truck is life. But we need more water, more often."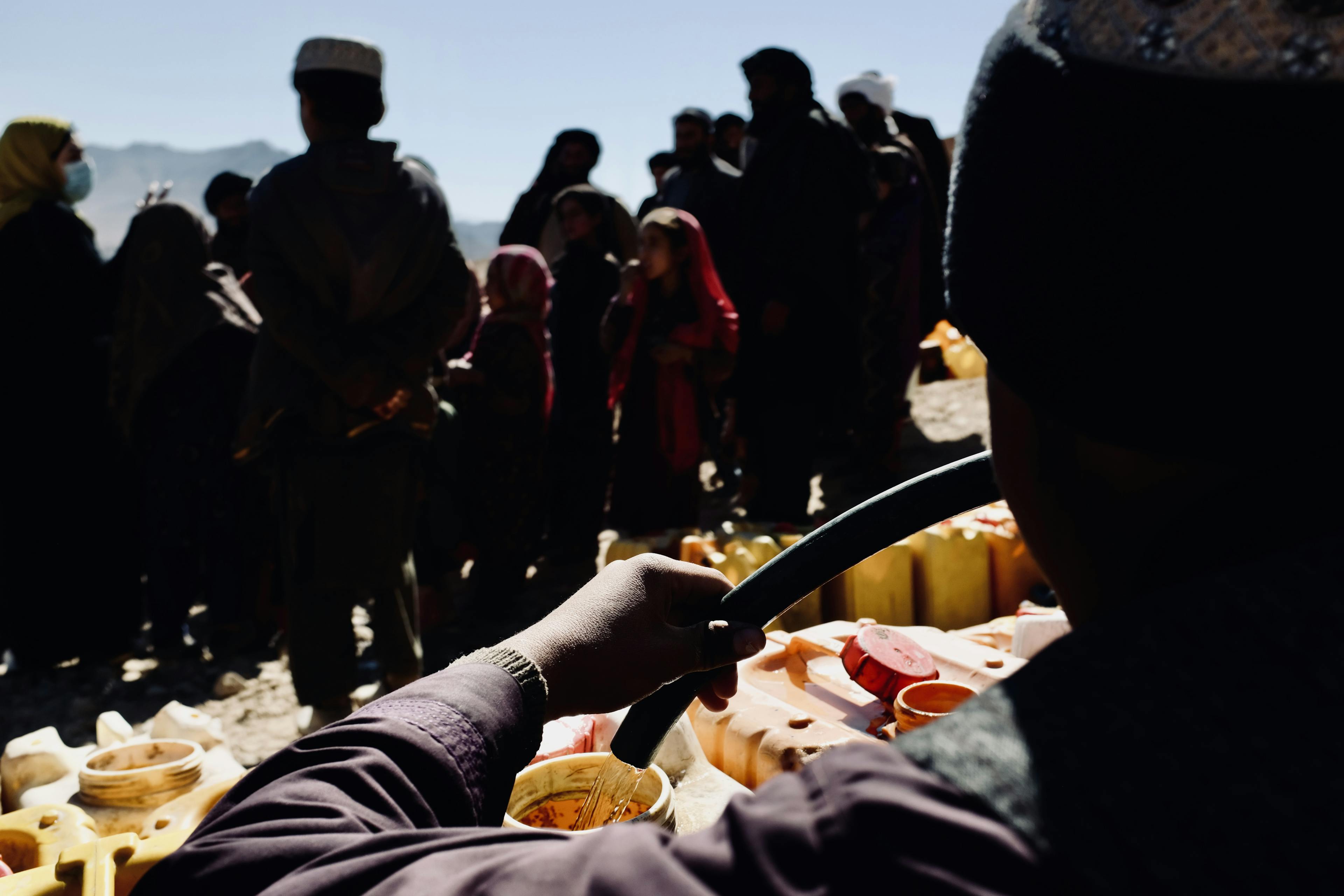 UNICEF/UN0629402/Gripiotis
By the time we exit Najeeb's house, the whole community has surrounded the water truck. Under the cloudless, sharp blue sky, people carry away as much water as they can, fading into their clay-walled homes behind hanging carpet doors. 


By Michail Gripiotis for UNICEF Afghanistan
Donate to the Afghanistan Emergency
Kids in
Afghanistan

have hope,
they just need a little help.
Any donation you can make for kids in Afghanistan will be a life-changing and life-saving one.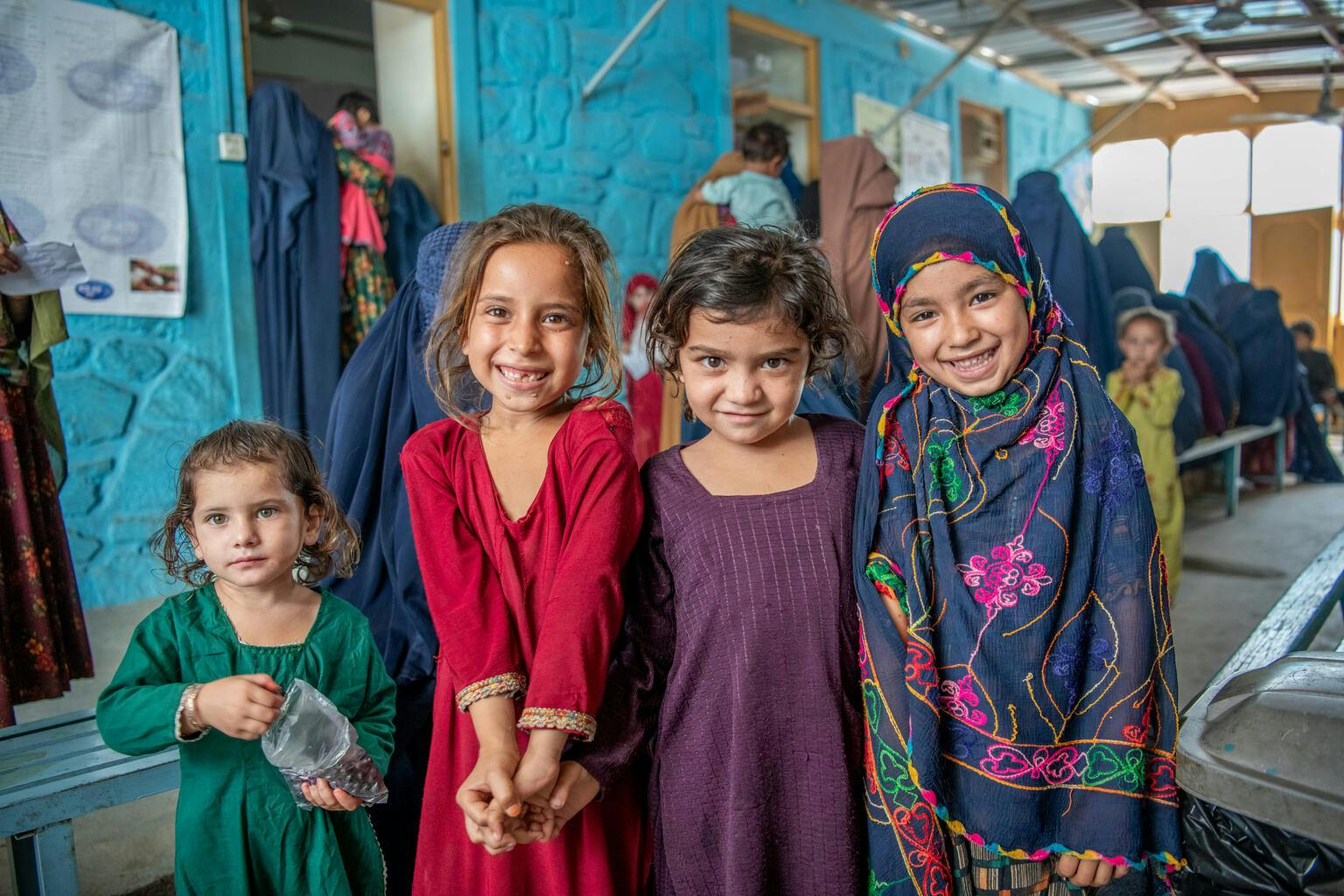 © UNICEF/UNI404854/Karimi