UN0687504
The courage of children
Ukraine one year on
The courage of children in Ukraine one year on
We've witnessed children live through the horrors of war in Ukraine. But we've also seen their courage. These are their stories.
For the past 365 days, the lives of children and their families living in Ukraine have been turned upside down. Children have witnessed the horrors of war – lost loved ones, woken up in hospitals with horrific injuries, hid in underground shelters, missed school, and fled their homes.  

Over the past year, we've also witnessed children's remarkable courage, hope, and strength.

Generous donations from Aotearoa and around the world have also made an incredible difference in their lives. 

What has
courage

looked like for children in Ukraine?
From his hospital bed, 12-year-old Mykhailo courageously reminds himself of moments that bring him joy.  

"I want to go out for pizza,"says Mykhailo."It's too boring being here all the time but I'm feeling safe."  

Mykhalio and his ten-year-old brother Kyrylo sustained severe injuries when a rocket landed in their yard, killing their father and two brothers.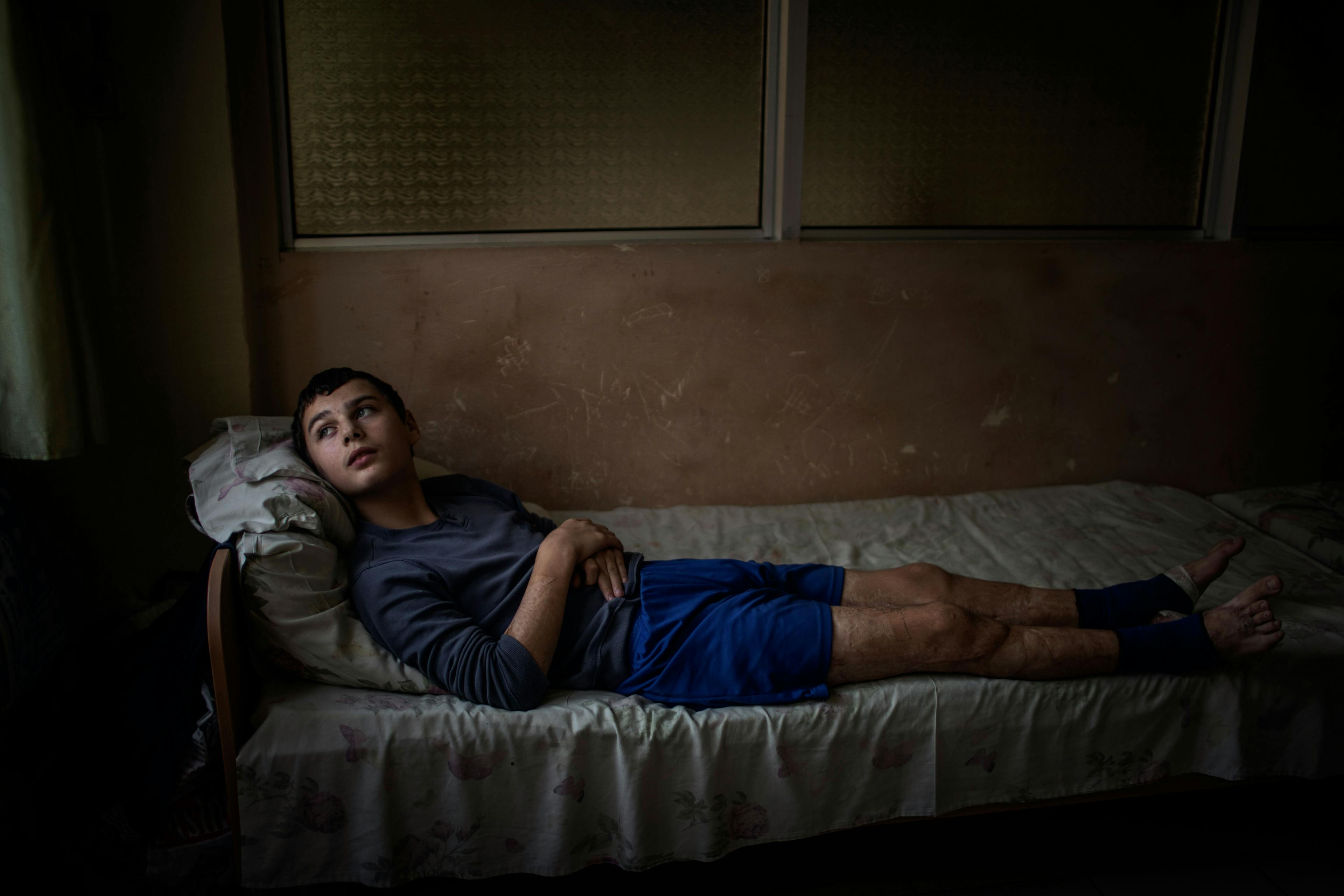 UN0718906
Although Kyrylo is now at home and looked after by family members, Mykhailo remains in the hospital with two shrapnel fragments embedded inside his head. 

In the past year, 438 children have been killed in Ukraine and 842 injured, according to UN verified data, although the true numbers are likely to be much higher. 

Most casualties have been caused by explosive weapons such as shelling from heavy artillery, rockets, and air strikes.  

The brothers received emergency surgery and rehabilitation so they could recover from their injuries, and now Mykhailo dreams of being a chef one day.  

Over 5.3 million children and women have been able to access primary health care in UNICEF-supported facilities and from mobile medical teams. This support would not have been possible without our generous donors, supporters and partners on the ground.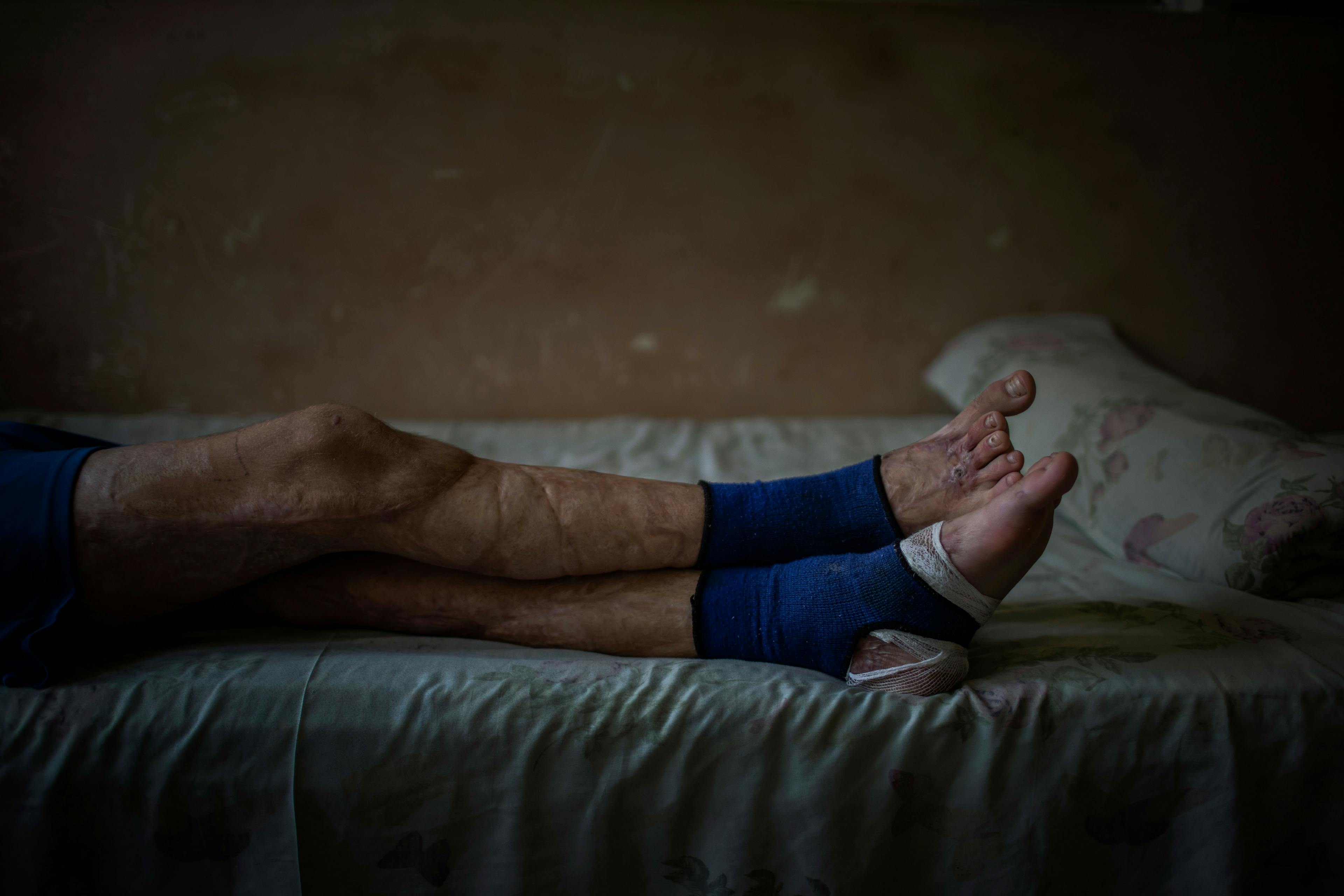 UN0718916
Many children in Ukraine have carried scars that aren't always visible from the outside. They have deep internal scars and face trauma every day.

Fifteen-year-old Dasha courageously spoke to a UNICEF-supported psychologist, about the war, her fears, and her hopes for her future.  

Dasha's home had been destroyed and within six months of the war, she had endured isolation and fear.  

"I have poor sleep and poor appetite,"Dasha says."I often feel apathetic and don't want to do anything or even socialise. Of course, it's scary."  

Dasha received a visit from the team's psychologist once a week.  

"I was glad to get the opportunity to work with a psychologist, as I wanted to understand the reasons for my condition. I realise that it was caused by the war, but it's hard to figure it out without expert advice." 
UN0773878
With the support of donors, 3.8 million children and their caregivers in Ukraine and refugee-hosting countries have benefited from psychosocial and mental health support to help cope with trauma and emotional stress.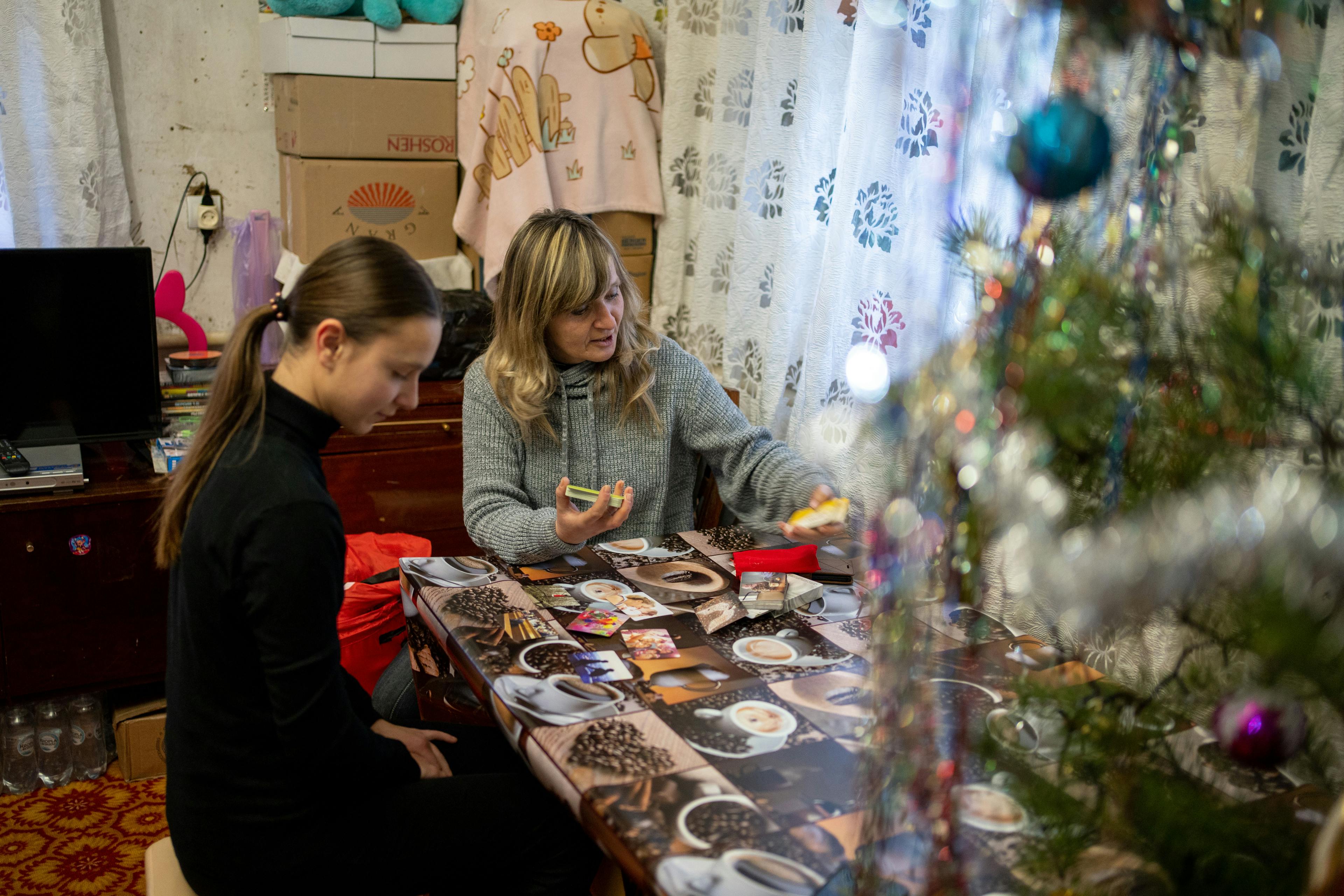 UN0773879
Starting over
Children have been forced to leave their homes and cross borders into neighbouring countries — scary for adults and children alike. 

At just ten years old, Sasha knew leaving home was the safest thing to do. It took courage to start a new school and life in Moldova.  

Sasha's father, like many men in Ukraine, had to stay behind, but her brother Vanea looks out for her.  

"I miss school so much because that's where my friends were. But most of all, I miss home and my father," says Sasha.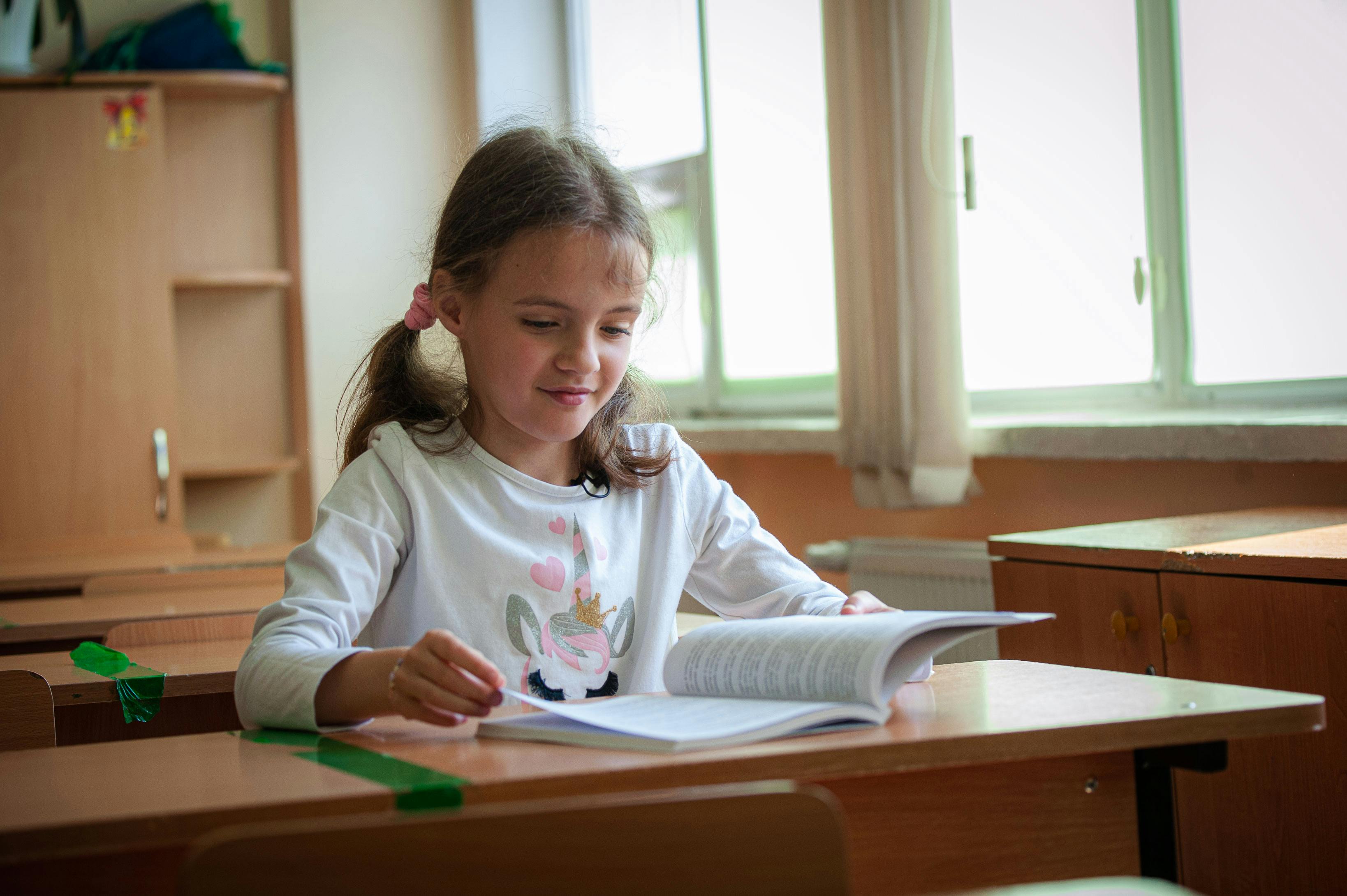 UN0664601
Vanea admires how his sister has adjusted to their new life. "Sasha has adapted well too. Everyone loves her, adores her, and she tries really hard in class." 

Since February 2022, 2 million children have accessed formal and non-formal education, over 500,000 of whom are in refugee-hosting countries.  

More than 47,000 refugee households with children have also been reached with UNICEF-funded humanitarian cash to help them get back on their feet.  

By the end of 2022, 7.9 million Ukrainians had fled their home country to find safety. As we tragically mark one year of war, UNICEF continues to work with 19 host countries across Europe to ensure children have access to essential services and are supported to integrate into a new country and culture.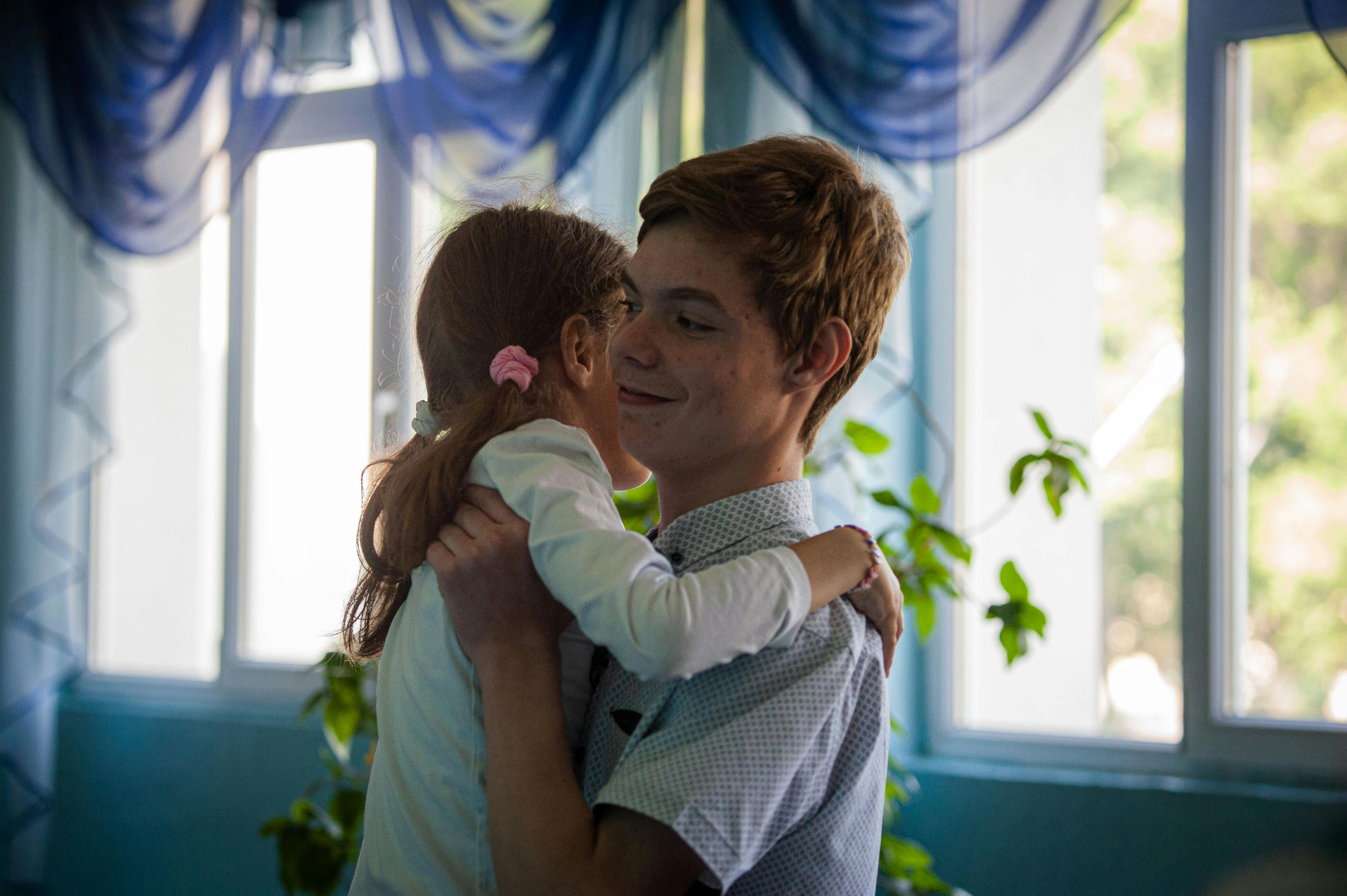 UN0664600
Dreaming of a
better future
Children have seen their schools collapse and lay in piles of rubble. The destruction of schools meant learning in Ukraine began to take place underground - in car parks, metro stations, and basements.   

Thirteen year old Nazar was terrified when he saw bombs being dropped on his school. But like many children in Ukraine, Nazar dreams of a better future and has the courage to commit to his studies, so he does not fall behind. 

"When I grow up, I want to be a policeman," says Nazar. "You have to be strong and smart, so I will study social studies and do sports to prepare for protecting people's lives."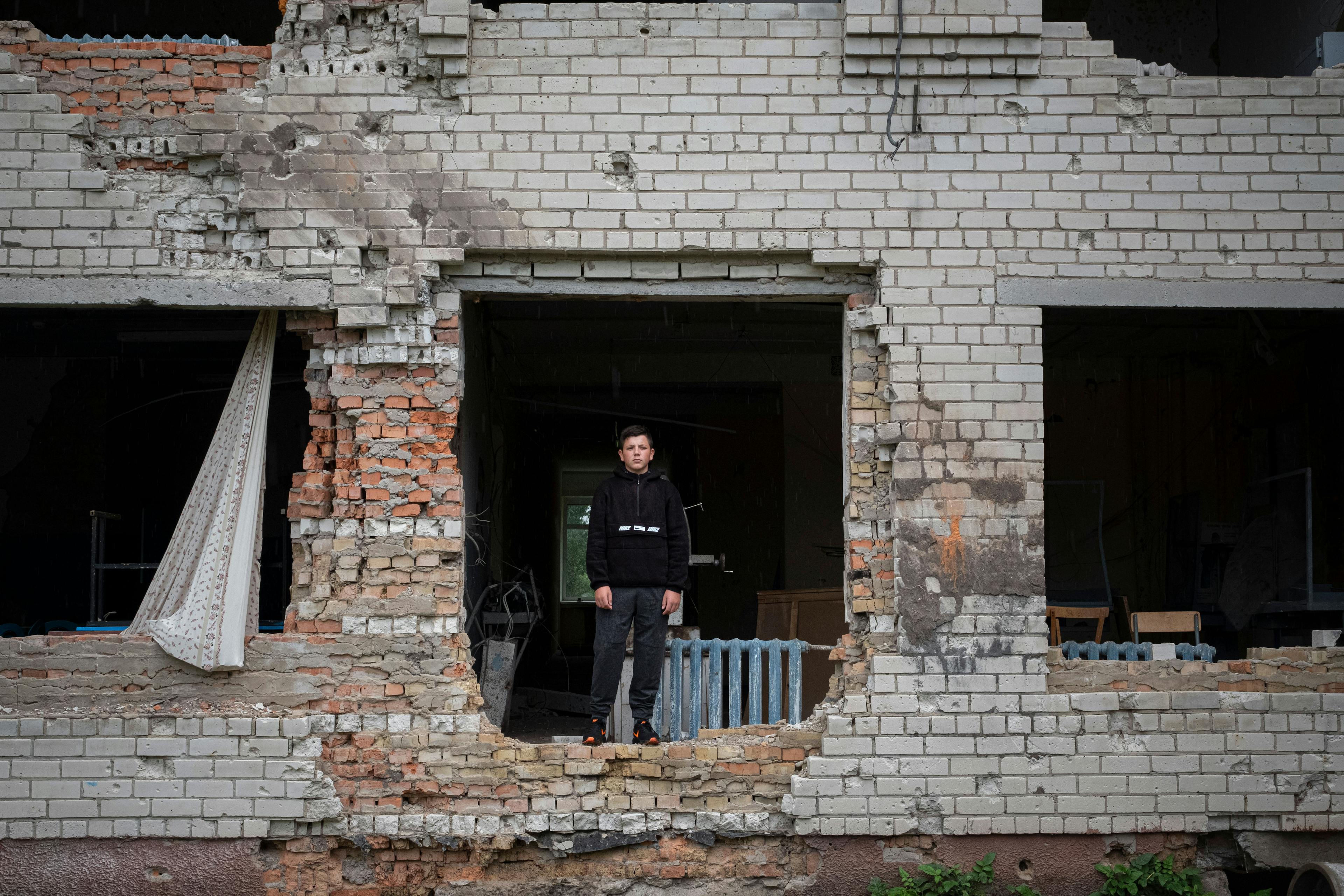 UN0689612
For three weeks Nazar lived in the basement of their home during heavy artillery fire. He continued his schoolwork whilst the sounds of bombing and shelling filled the air above. Their house was raided by men wearing balaclavas and holding guns, who took away their laptops and phones.

Almost a year on, Nazar will soon go back to school. "We were told that the school can be rebuilt," he says happily. "I hope that when the war is over, my school will be rebuilt, and I'll study and after that go to university."  

Schools are often safe places for children that offer a sense of normalcy and protection from harm. Since February, donor generosity has helped UNICEF and partners rebuild 11 schools, benefitting 8,500 children. An additional 53 schools are in progress.    

In the past year, 850,000 children have also received school supplies and stationery kits to help them continue their education and pursue their dreams.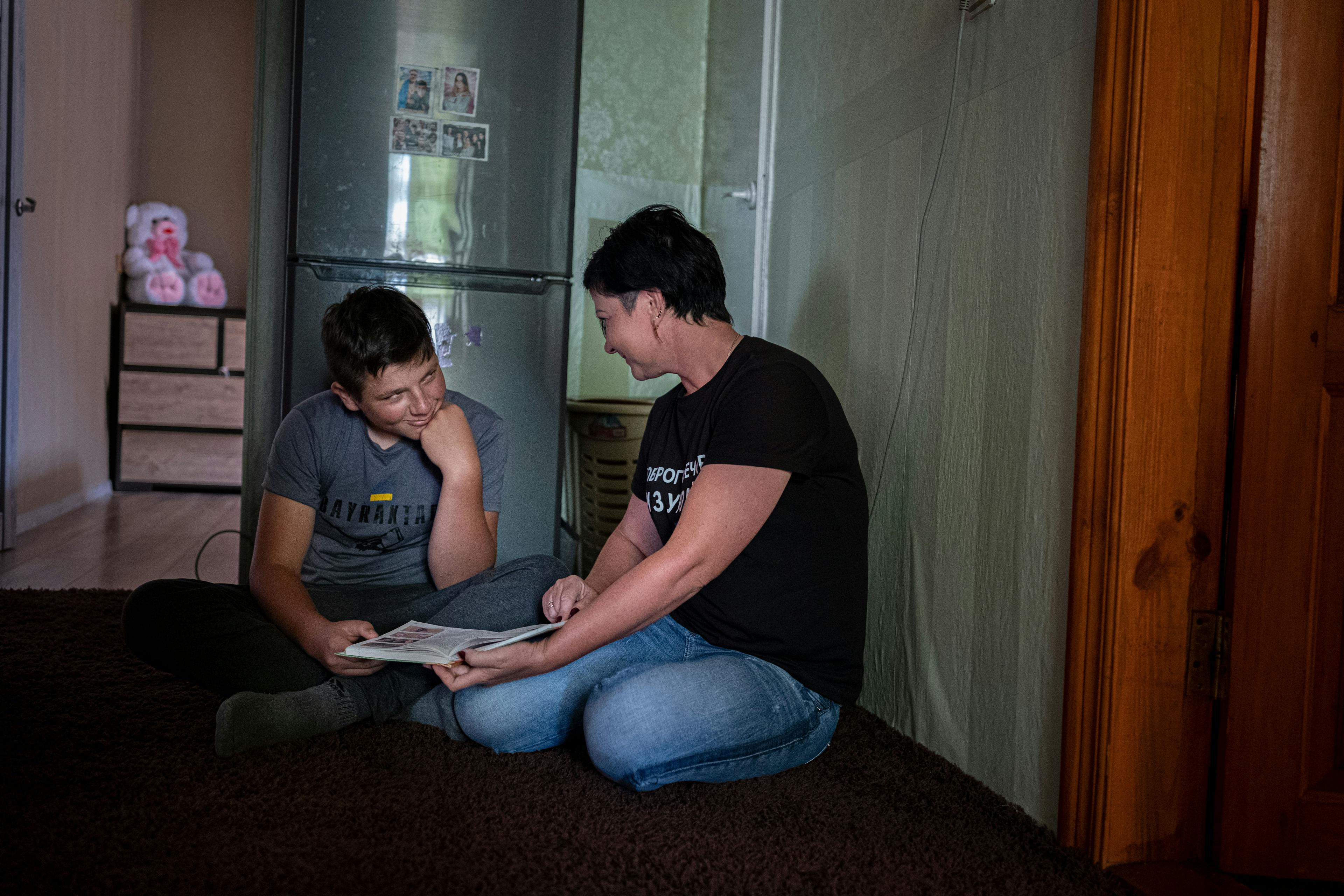 UN0689602
In winter, temperatures have plummeted to –20 degrees or below and children have struggled to stay warm. 

Ten year old Bohdan lives with his grandmother and two sisters in a damaged brick home. Their home doesn't have a stable connection to electricity, gas, or warm water. Volunteers dropped off firewood, but Bodhan worried it wouldn't be enough to last the harsh winter.

Bodhan has courageously collected and prepared firewood to keep his family warm.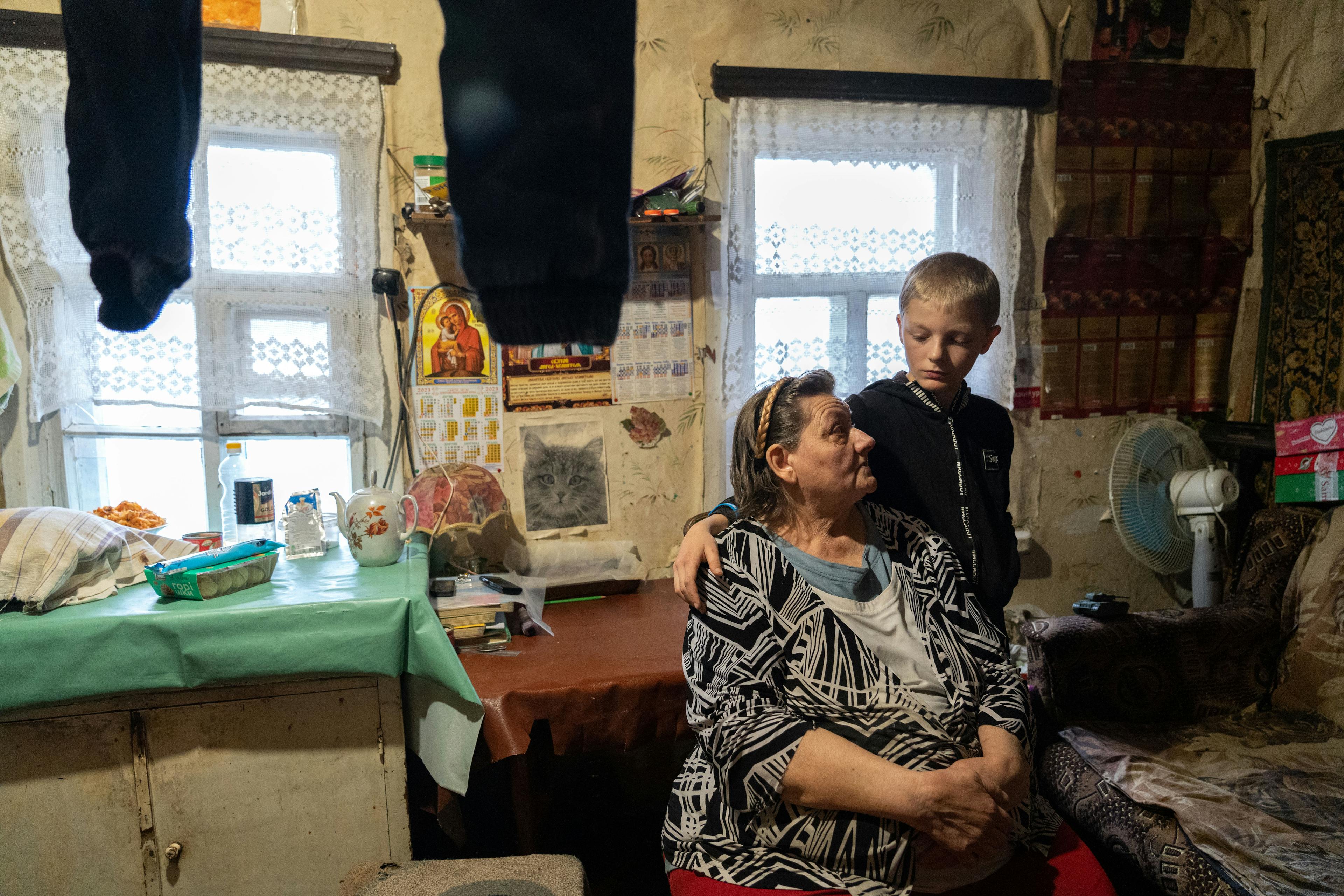 UN0769365
"We save firewood because there is not much of it. I carry the logs from the barn and chop them into small chips so that my grandmother can heat the stove and prepare food. Without firewood, we will be very cold," Bohdan says. 

In September 2022, UNICEF provided 800 power generators to support safe drinking water, and water for heating systems, medical facilities, and other essential infrastructure. The winter response also included children's winter clothing, blankets, heaters, and mobile and electrical boilers, reaching approximately 500,000 children and their caregivers.  

Over 4.75 million people inside Ukraine have also received access to safe water. None of this would have been possible without donor support.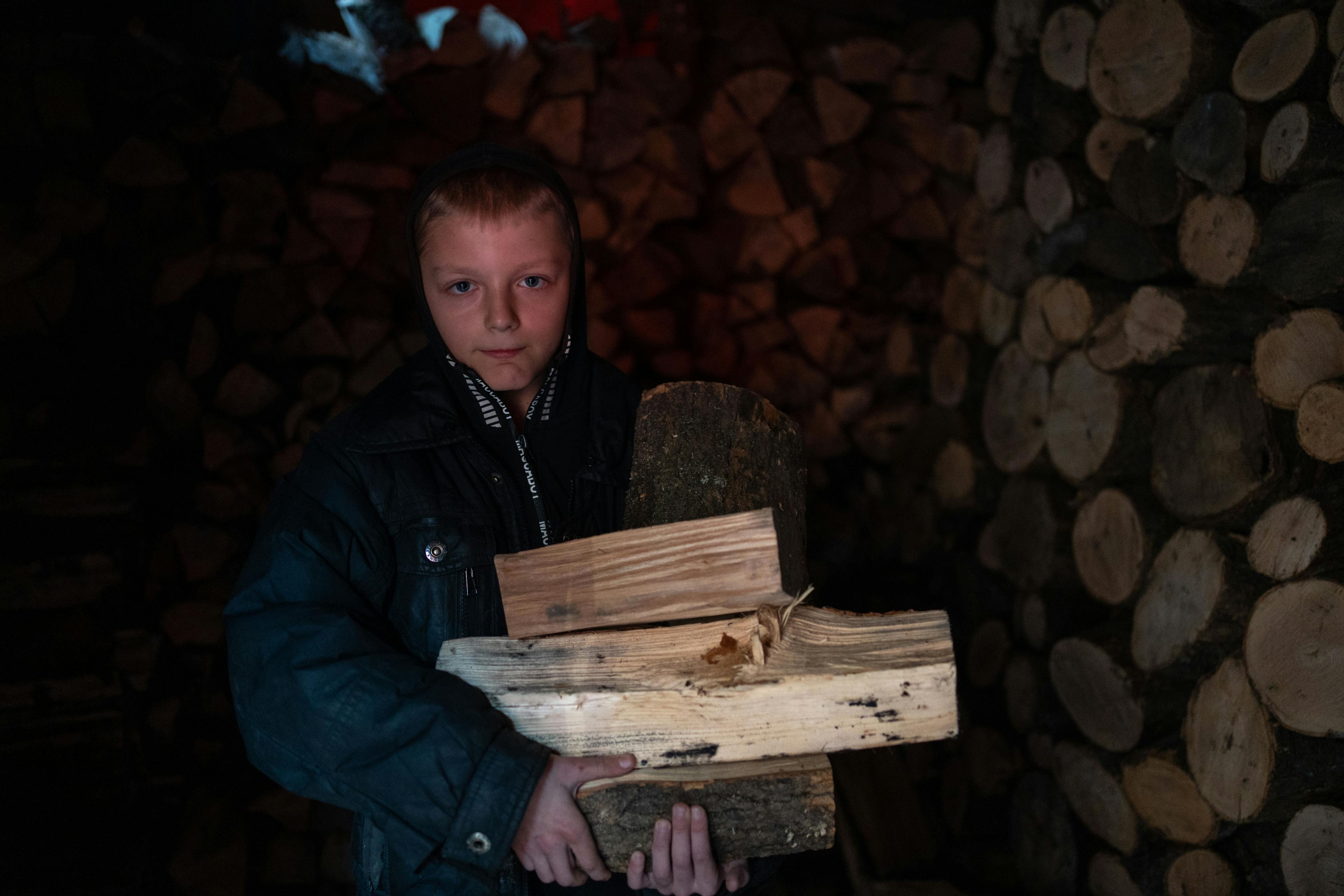 UN0769369
Looking ahead –
children in Ukraine still need your help
Ukrainian children and families continue to show great courage, hope, and strength.  

But communities still need our help. With no end in sight to the war, and increasing humanitarian needs, funds are still urgently needed to reach vulnerable children with life-saving assistance.
Help us provide lifesaving supplies and health services.
Donate to the
Ukraine Emergency
With your support we can continue delivering and expanding essential programmes to ensure we reach every child with lifesaving supplies and health services. We cannot forget the courageous children from Ukraine.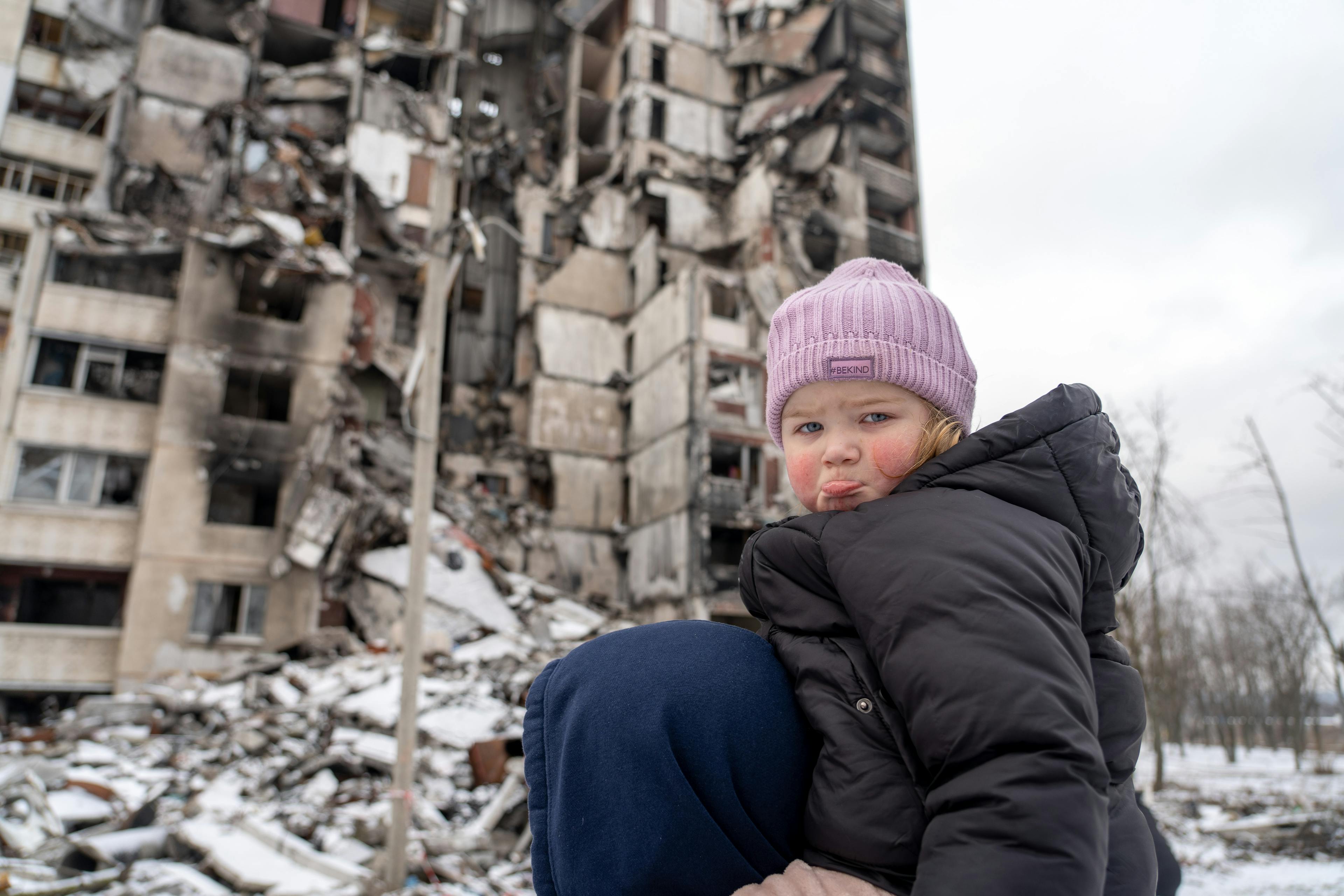 UN0770709