UNI320754
Innovative tech changing the game for children's education.
Life-changing digital innovation? Check! Fully customisable on any device? Check! Accessible for kids for online and offline use? Check! Helps bridge the education gap for children in all parts of the world? Yes!

The Learning Passport is a digital learning platform that gives young kids app or browser-based school classes without always having to be connected to the internet. Lessons can be initially downloaded and then continually accessed by children offline. The platform has 1.6 million registered users, with this number growing every day.

It was developed in the thick of the Covid-19 pandemic to ensure kids could continue their education while schools remained close. The platform is currently available in 13 countries and allows local education ministries and teachers to manage and create lessons that fit within the local curriculum. Lessons are curated so the content is in the local language and it reflects who the kids are, their culture and where they come from.

In partnership with Microsoft, the Learning Passport was named one of Time Magazine's best inventions of 2021.
Access in
Kiribati
In Kiribati, locally developed video lessons and quizzes for selected subjects, as well as global education resources were uploaded to the platform. UNICEF collaborated with Kiribati's Ministry of Education to provide technical and financial support, teacher training and assistance with creating high-quality video lessons.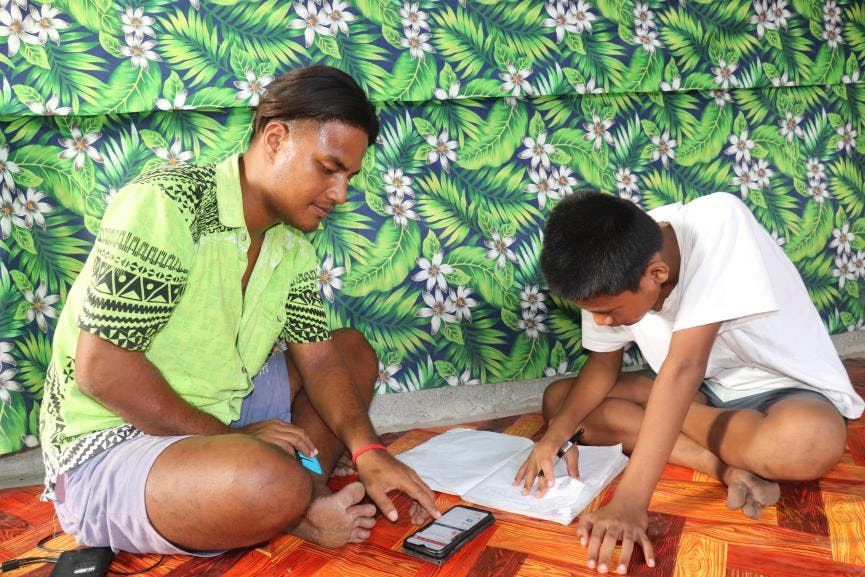 ©UNICEF
Betangnga's uncle helps him with math problems about the perimeter of compound shapes in
Learning Passport

lessons.

Twelve-year-old student Betangnga is from Bikinibeu village in South Tarawa. He downloaded the video lessons from Learning Passport while sitting in his family's traditional kiakia (open hut) which faces a picture-perfect emerald lagoon. Although internet speed in Bikinibeu can be slow, he waited patiently for the lessons to appear knowing once they are downloaded, he'll be able to access them whenever he wants without waiting.

"If you have Learning Passport, the lessons are always with you" says Betangnga happily. "We can't repeat or pause the lessons in the classroom at school, but with Learning Passport we can do that."

Betangnga learnt about the Learning Passport through a school outreach campaign initiated by the officers of the Ministry of Education and through an SMS message that was circulated to all mobile phone holders across the island.

Because teachers aren't available in real time for students. Betangnga's uncle has been able to assist him with any course questions or subjects he needed help with.

"My uncle helped me a lot in explaining and working out the math and science problems," Betangnga says. "I enjoyed the lesson on the human digestive system because the video showed a detailed illustration of organs and their functions. The teacher's explanation of that lesson was very clear! I got 80 out of 100 on the quiz on human digestive system!"

Betangnga hopes to one day become a medical doctor so he can help sick people. He works hard at math and science to make his dream come true.

The local Ministry of Education is now developing additional lessons and quizzes to upload onto the platform. It is also improving the islands remote learning system by ensuring teachers have support to design lessons and help kids who are learning from home. So far, over 900 people across Kiribati have registered for Learning Passport and more kids are registering each day.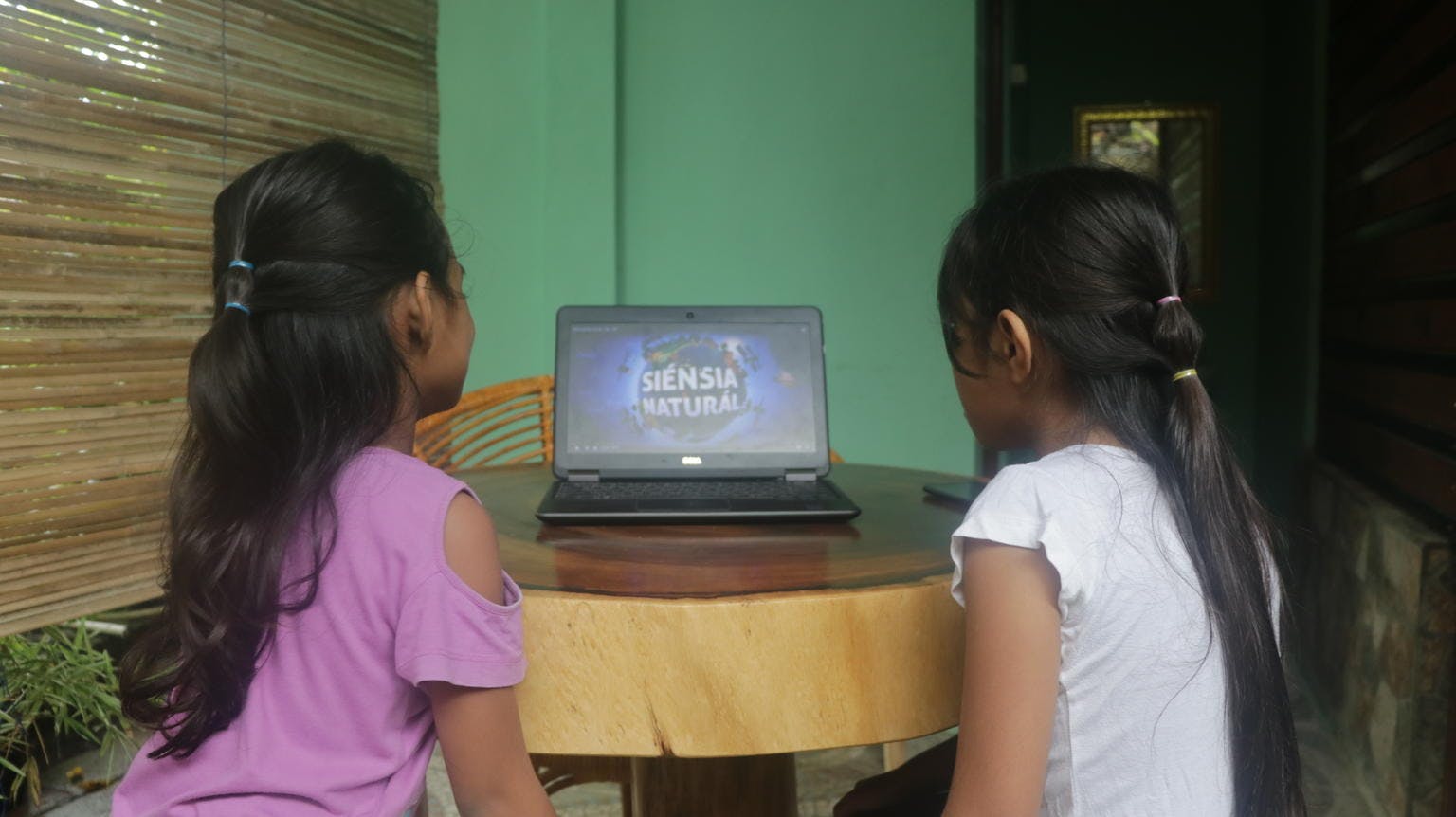 ©UNICEF/UNI320803/Soares
Two girls view the learning platform where they can view a mix of digital learning resources including audio and Visal material.


Timor-Leste was the first country to implement Learning Passport within their digital learning platform called 'Eskola Ba Uma' meaning 'School Goes Home'.

During lockdowns, television, radio programmes as well as e-books were uploaded to the platform for parents to be able to explain COVID-19 to children with neurodevelopmental needs.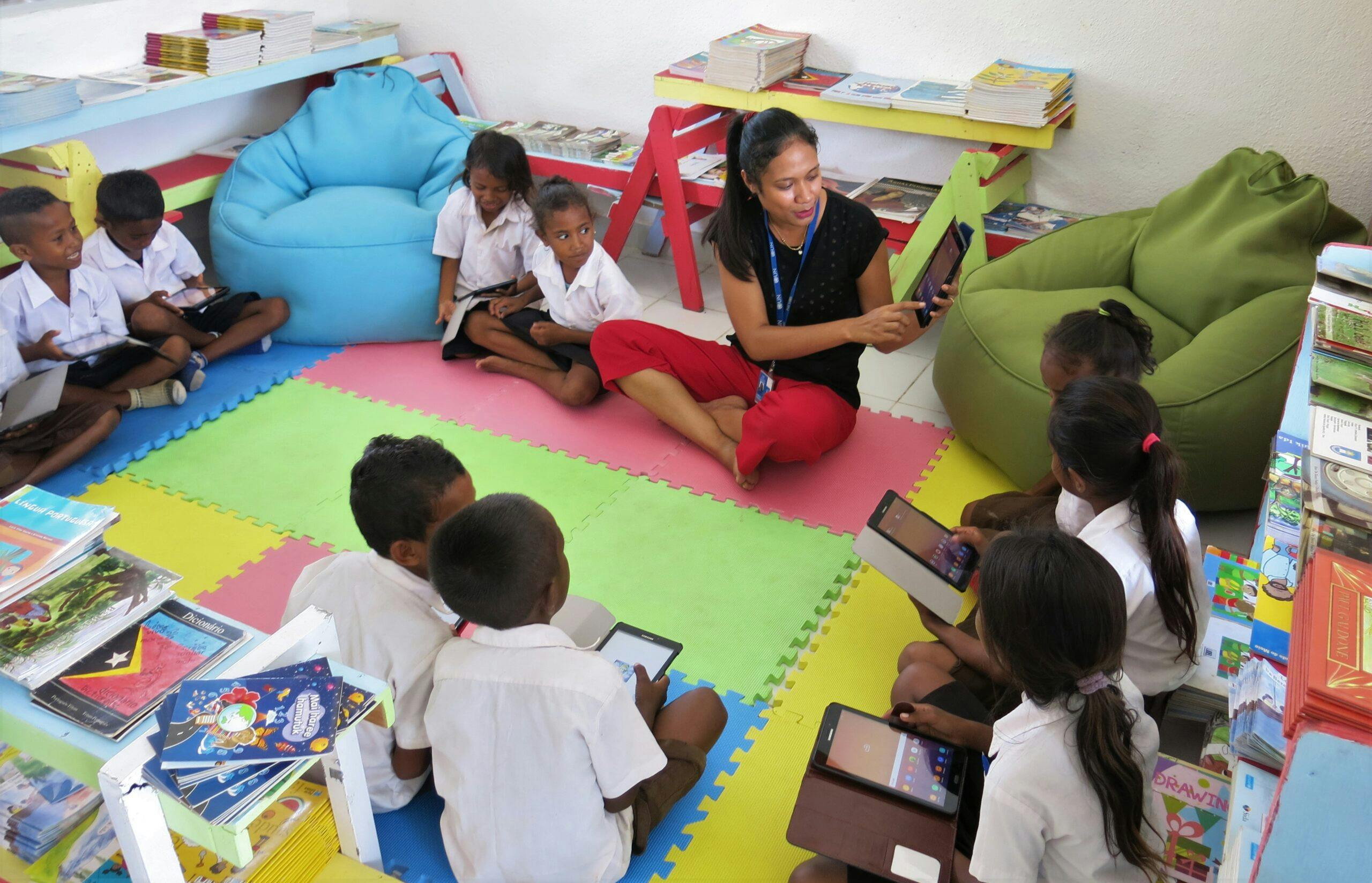 ©UNICEF
Like Kiribati, UNICEF is working with the education ministry in Timor-Leste to support teachers with blending the digital tool with real life learning in the classroom, now that lockdowns have ceased. Thanks to the generous support from donors, we've been able to stay in Kiribati and work alongside the local education system to facilitate group discussions with teachers and students from grades 2,3,7, and 9 in four schools. This will allow education ministries to understand their needs, perceptions, and constraints when it comes to using digital learning. Feedback from these sessions will be used to inform improvements to the Learning Passport as it continues to grow in kid's schools and households around the country.

It's because of donor support that we're able to keep pushing forward with our partners across the globe to develop innovative solutions that will ensure every child has access to undisrupted, quality education regardless of internet connectivity and where in the world they might be.