Dan Carter

 appointed
as UNICEF Aotearoa


Ambassador 
Dan Carter appointed as UNICEF Aotearoa New Zealand Ambassador
Today, UNICEF Aotearoa New Zealand welcomes former All Black Dan Carter as an official Ambassador.
"I am excited to take on the role as an ambassador for UNICEF Aotearoa New Zealand," says Carter. "In 2019, I had the privilege of meeting Syrian children and families in a UNICEF-supported refugee camp in Jordan. It was a life-changing moment for me to see children smile and play after everything they had been through."

"I am honoured to use my platform to highlight the challenges children and young people are facing and show the incredible work UNICEF are doing to make a difference."

In 2020, Carter fronted a campaign to show how UNICEF supports malnourished children with Plumpy'Nut, a life-saving peanut paste, and lent his voice to the importance of water and sanitation. In his official role as Ambassador, Carter will continue to promote children's rights in Aotearoa, the Pacific and around the world.

Michelle Sharp, UNICEF Aotearoa New Zealand CEO, says the former All Black great inspires generations of Kiwis and is a perfect fit for the organisation.

"We are absolutely delighted to welcome Dan Carter as an official Ambassador for UNICEF Aotearoa New Zealand. He is a role model to so many and cares deeply about children and young people," says Sharp.

"We are grateful for Dan's continued support to highlight the challenges many children and young people face. We look forward to strengthening this partnership and finding innovative ways to reimagine a better world for children and ensure their voices are heard."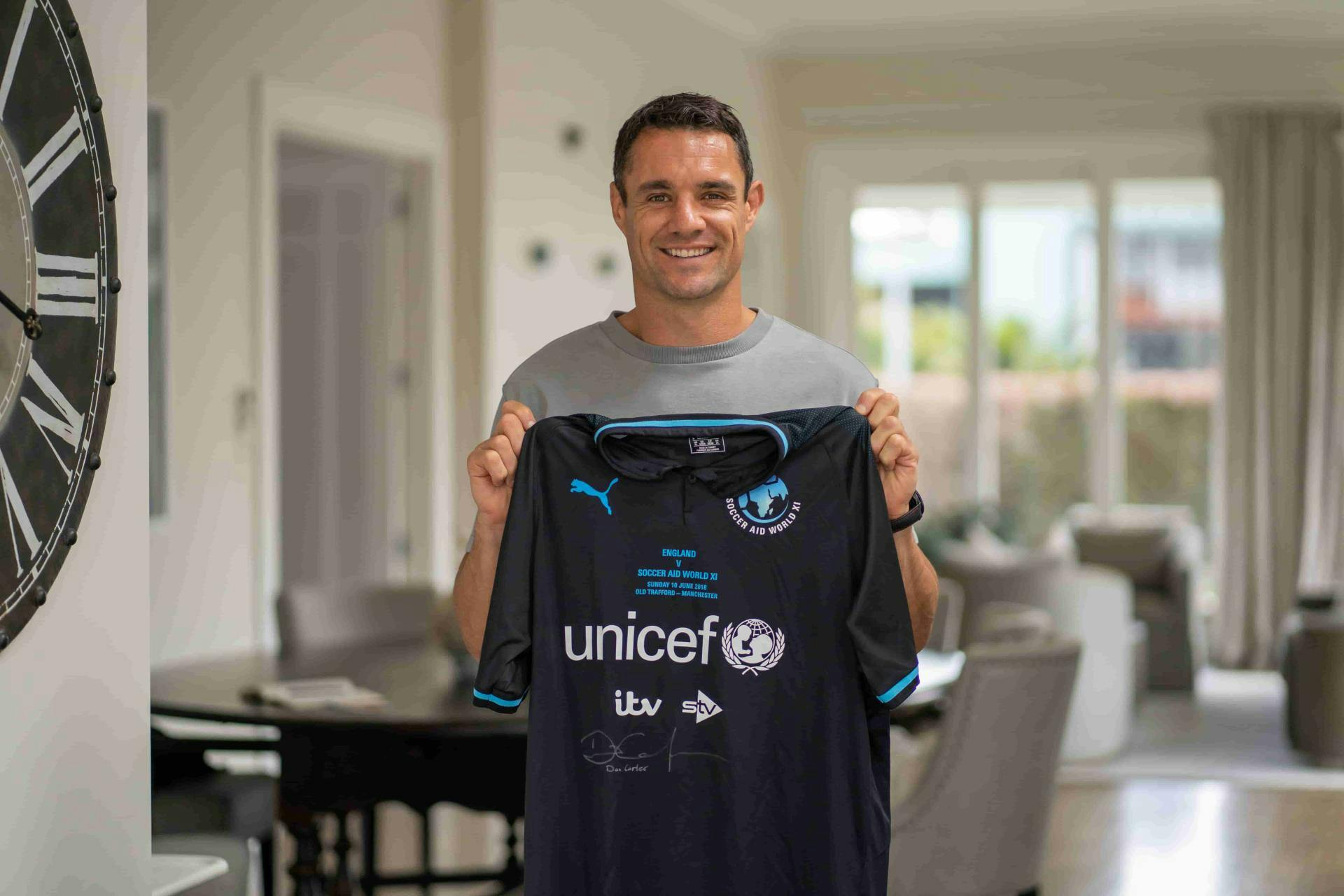 ©UNICEF Aotearoa
Dan Carter took part in SoccerAid in 2018
Carter is considered one of rugby's greatest first five-eighths and is the highest point scorer in test match rugby history with 112 caps. Carter says he is fortunate to have a had a lengthy sporting career and wants to ensure other children have opportunities to realise their potential.
In 2018, Carter swapped a rugby ball for a soccer ball, joining Gordon Ramsay and other sporting stars and celebrities in a football match to raise money for UNICEF UK.
"Many children in Aotearoa and around the world do not have the same opportunities that my children do. They are missing out on the basics like education, food, clean water and support for mind health. I have been so fortunate to meet children who have demonstrated incredible resilience and it is an honour to be their advocate and take on the role as UNICEF Aotearoa New Zealand Ambassador."
UNICEF Aotearoa

— Mō ngā tamariki katoa – For every child

UNICEF Aotearoa New Zealand is one of 33 National Committees and seeks to make life better for all tamariki by advocating for the rights of children in Aotearoa, partnering with the New Zealand Government to deliver programs to tamariki in the Pacific and raising funds for UNICEF's worldwide emergency and development work. For more information about UNICEF Aotearoa New Zealand and its work for children visit unicef.org.nz  

UNICEF works in over 190 countries and territories to protect the rights of every child. UNICEF works in the world's toughest places to reach the most disadvantaged children and adolescents – and to protect the rights of every child, everywhere.